Have you ever thought of distributing that quality content you created via Quora? I guess you hardly think of it.
What if I tell you that a percentage of 300 million users on Quora may want to consume it.
And what does it take?
Sharing your content after answering questions that bother Quora users in your niche.
Does this interest you?
If yes, then you have to stay tuned because I'll show you how to distribute content on Quora and the key metrics you should monitor.
What is content distribution?
Content distribution is the process of promoting your content to a target audience who you want to attract and retain.
Content distribution is of three 3 classes:
Paid content distribution
Here you pay for a target audience to view your content. It could be in a form of pay per click advert on a marketing channel.
Earned content distribution
This is when other people distribute your content through guest posts, press coverage, shares, or retweets.
Owned content distribution
This involves distributing your content on platforms you have accounts. An example is social media platforms which Quora is part of.
According to a survey by Databox, social media is the second most important channel used to distribute content.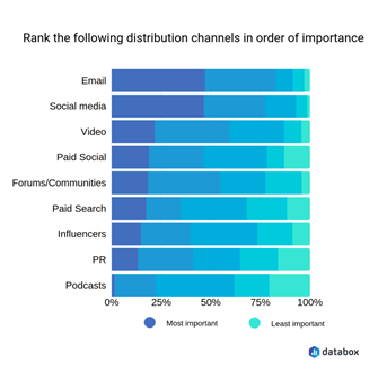 What is Quora?

Quora is a question-and-answer social network where you can ask and answer questions in different niches. It's a platform where you can gain and share knowledge.


What type of content can you distribute on Quora?

There is no form of content that you can't distribute on Quora. It depends on how you package it. However, the following are common types of content you can distribute on this Q&A platform:
Videos
Social media posts
Infographics
Blog posts
Downloadable E-books
Podcasts and white papers
How to distribute content on Quora

Now that you know the forms of content you can distribute on Quora, let's dive into how it works.

Create an account on Quora

Creating an account on Quora is simple. You can use your email address and a password to create one.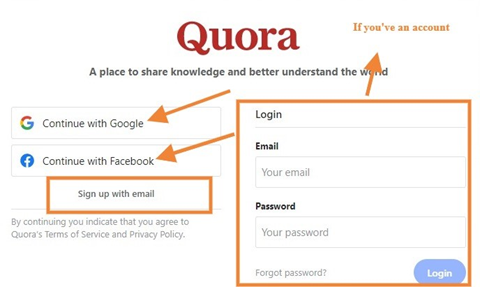 Or you can click on continue with Facebook or Google which pops up when you want to sign up.

Choose topics relevant to your business

After signing up, you're to choose a minimum of 5 topics of interest.
Bear in mind that your goal is to distribute your content. Hence the need to choose topics relevant to your business and the interests of users in your industry.

Set up your bio

You will see the option to add your profile picture. If you're an individual, a personal photo will be fine while a logo will be a good fit if you're a business.
Your profile credentials come next.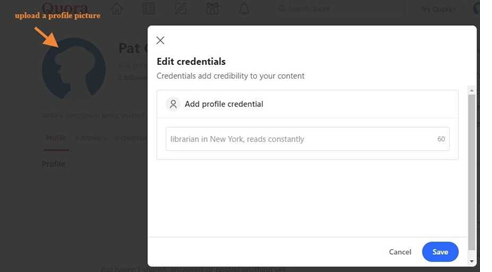 Here you describe yourself or your business in a way that makes you an authority in such a niche.
This is for your target audience to trust the answers you give and most importantly, the content you distribute on Quora.

People want to see you as an authority who can help them solve their problems.

That's the only way they can trust the content you share with them.

You've a maximum of 60 characters to put up a credential that can impress your target audience. So make it short and catchy.


Distributing content on Quora

The first step to distributing content on Quora is to find questions that matter to your audience and answer them.

How do you find questions that are in your space?

Click on the answer icon on your Quora account and you see questions related to your interest. The audience to who you want to distribute your content to are the ones that ask these questions.

You can use the Answer Draft feature to save questions you want to answer later so that you don't forget. You may see some users following a question. This means that once you provide an answer, they get a notification for it.

Another method to find questions to answer is via the use of relevant keywords. Bear in mind that your goal is to distribute your content. On the search bar, enter keywords that relate to the content you want to distribute.

For example, If I have a blog post on " How to start an online business" I can search for " How to start an online business"
A list of questions that Quora users ask about such keyword will display.


You will notice that some questions have more following than others when you click on each of them.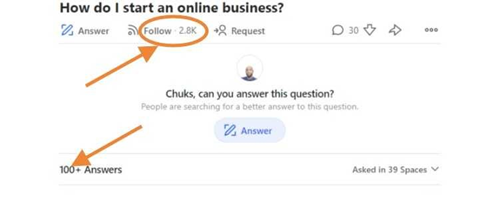 Generally, questions with many following tend to have more answers as you can see on the screenshot above.

It can mean that a lot of users can see your answers.

What I do in this case is to check for the number of answers for questions with much following. If they're few, let's say under 10, I smile knowing that users who follow such questions can see my answer.

But if they are more than 50, I ask myself if someone can dig deep into reading the 50th answer.

Although some users may be searching for answers to such questions without following, it is better to place your answer where it can be easily seen.

Answering questions on Quora

This is where the content distribution happens. Quora allows you to add links, images, and videos to your answers. But it has to offer value to your target audience and you must follow the rules. Your answers should be useful, clear, and succinct.

Generally, long-form answers on Quora tend to show that you have deep knowledge of the subject matter. And it could be enough reason for users to check out and consume the content you distribute while answering the questions.

The structure of your answers should matter to you. See it as if you're creating a blog post on WordPress or you are creating a document on Microsoft Word or Google Doc.

Use H2 and H3 tags, bullet points, and punctuations where necessary. Plus avoid spelling or grammatical errors. Alternatively, you can try Jasper AI writing assistant which has advanced templates for answering Quora questions.

Distribution of blog posts, downloadable e-books, case studies, white papers, social media posts, podcasts

You can distribute these contents while answering questions on Quora. All it takes is to identify where you think they will add value to your target audience.

Then add the link to any of them in your answer. Some links can be ugly mere looking at them and it is important you make them look attractive. The ideal thing is to add them to an anchor text.

The screenshot below is how Sramana Mitra distributes her blog post in one of the answers she provided on Quora.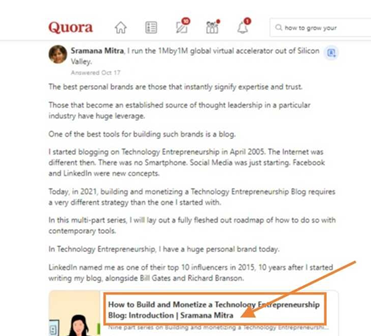 Distribution of infographic
Infographic is a visual representation of information. You can distribute it on Quora by inserting them in your answers for illustration purposes.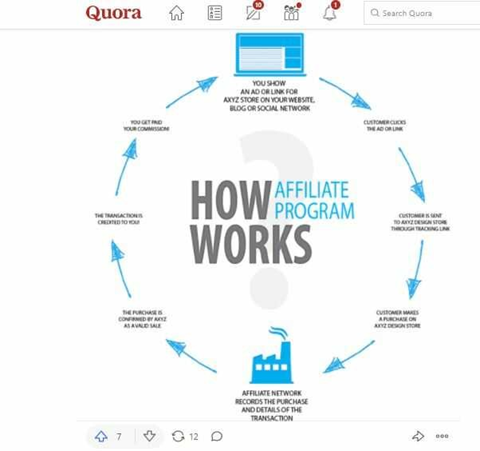 According to crazy egg, answers on Quora with relevant visuals entice users to click on them.

Distribution of videos

Video consumption is on the increase and Youtube is the second most popular search engine.

You can create your videos with Clipchamp, upload them on YouTube and distribute them on Quora.

If you've a YouTube video that can support the answer you provide on Quora, add it.

Copy the link to the YouTube video and paste it into your answer.

The link will instantly turn into a video that your audience can watch.

I used a YouTube video of Neil Patel for illustration in the screenshot below.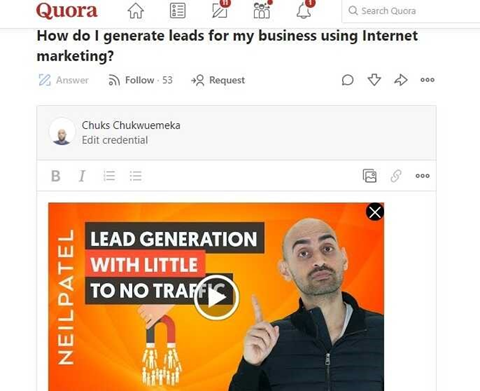 Simple rules to keep while using Quora to distribute your content
Provide valuable answers to questions in your space
Avoid plastering your answers with links
Do not link directly to products or services
Avoid the use of affiliate links
Focus on providing value and be consistent

Key metrics you should monitor

The success of your content distribution on Quora will show on the metrics. The aim is for you to know if your target audience engages and consumes your content.

You should monitor the following:

Upvotes

Users upvote your answer to appreciate it and the content you put up on Quora. It's a ranking factor on Quora that can move your answer up for more users to see it.

Downvote

Downvotes show that users are not satisfied with your answers. This can affect the ranking of your answers on Quora if it becomes recurring.

View

Here you see the number of users that viewed your answers.

Comment

Comments are what users say about your answers. It could be in form of commendation, suggestion, or criticism.

Share

This happens when users think that you offered value and want other people to know about your answers.

It means that users on other platforms like Facebook, Twitter, LinkedIn, etc., can see your content when they click on the link.
You have an analytics dashboard on Quora where you can monitor these stats.

Final Thought

Content is like food while its distribution is like serving it to hungry people. Let's recall the steps again:

Create an account on Quora
Choose relevant topics to your business
Set up your bio
Identify questions to answer
Distribute your content by linking to or sharing them in your answers
Keep the simple rules on Quora
Monitor key metrics

The interesting thing is you don't pay to distribute content on Quora. You distribute your content and at the same time grow your audience and brand.

That's like using a stone to kill two birds.