Do you wish to develop an app like Wish that has been considered one of the most hyped apps worldwide? If yes, you need to focus on the current trends and the huge market that rewards innovation only.
By the time things have changed and the way people search and buy things have also changed. It is much obvious that there can be chances of surging losses, or your idea may fail.
But after going through this blog, you will be able to develop an online shopping app similar to Wish by avoiding market pitfalls. The recommendations in this article are based on profound market research and in-depth marketing analysis of the top famous shopping app in the market.
Now let's delve right into the subject.
Most of the start-ups primarily focus on eCommerce when they step into the world of online shopping. A report by Statista says that worldwide eCommerce sales are expected to reach 4878 billion by 2021. But start-ups should never leave the idea of mCommerce behind as the users these days find the idea of online shopping experience more convenient than the eCommerce one.
The below stats by Statista shows the shopping app share on Apple store. It is surprising to note that it is only 2.27 %. This clearly indicates the competition among the shopping app rivalries and hence you need to come up with a great app with great features.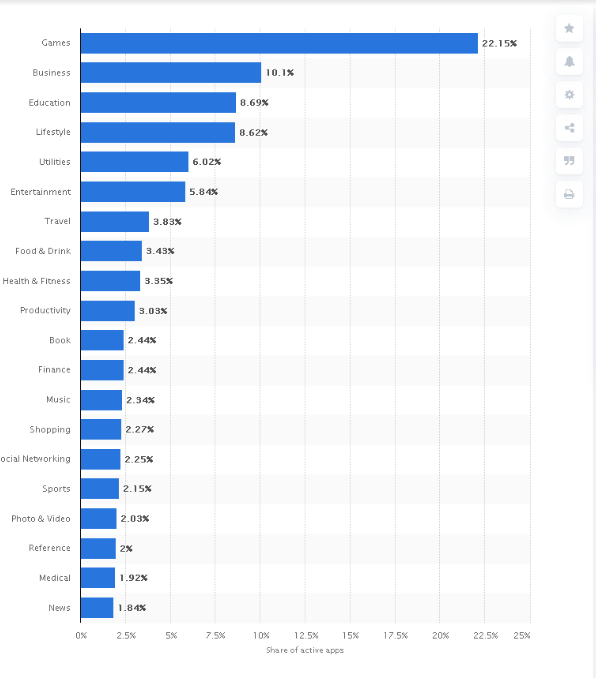 For any shopping app to be a success, the design should be user-centered, and the interface must contain more than five core design elements.
For any shopping app to be a success, the design should be user-centered, and the interface must contain more than five core design elements.
So, it is worth mentioning that the mobile shopping market is more profitable than the usual online retail. Users spent 2.2 billion hours on shopping apps during that Black Friday and Cyber Monday shopping period. App Annie expects that this indicator will grow by 25% annually.
So it's a big YES to mobile shopping, and there is no sign that the growth of mCommerce will slow down. So keep on reading and find out the best ways to make a shopping app.
Step by Step Process to Create Shopping App
Before you begin developing a shopping app for your start-up venture, it would be wise to pay precise attention to each of the steps required for building the app. Remember that you do not clone the entire Wish app, but you need to bring some diversification into it.
1. Conduct Market Research and Identify the Customer needs
It would help if you had a thought in your mind about the things you want to sell on your shopping application. Before you give your idea a kickstart, you must try to address the needs of your customers.
You need to conduct market research about the items, industry's outlook, target customers, and many other things.
2. Set your business goals, strategy, and expectations
What will you serve on your customer's platters is the foremost question that anyone will ask in case you are setting up a mCommerce business. The first interaction of the customers with your website or application will determine the traffic of the website.
You need to figure out the appropriate technical stack, development costs, timeline, and strategies to evaluate and decrease the risk of failure.
3. Choose a proper Software development Vendor.
Hire app developers from a trusted software development company which will save your time and budget constraints. It will be worth primary attention if you evaluate the prospects of the vendor, such as :
Background Checks
Client Lists and preferences
Capabilities
Processes and tools
Quality Standards
Legal and Security Aspects
4. Define your Shopping App Functionality
You need to primarily focus on the app quality, performance, and user experience. A well designed and feature-rich shopping application will allow you to gather the necessary feedback to compete with your competitors.
5. Develop an intuitive and responsive UI/UX design
A good shopping app requires users to take only a few taps to get the desired result. According to a Tech Jury report, 50.48% of the traffic comes from mobile, whereas 46.51% comes from desktop. The tablet devices secure the last seat with just 3% of traffic through it.
For any shopping app to be a success, the design should be user-centered, and the interface must contain more than five core design elements.
6. Test, Deploy and launch the app
Your shopping app will manage to bear fruit when your software testers test the app. It requires proper quality assurance checks, beta testing of the products on the reproduction, and other metrics that determine the successful launching of the application.
7. Roll out marketing campaigns to promote your online shopping.
Apply ASO (app store optimization) practices to launch your application on the app store and Google Play. Keep in mind that only 10% of the apps are widely used and actively installed on the user's phone,
8. Collect and Analyze feedback from app users
It's not the end after you launch the application. You need to constantly keep an eye on your app performance by collecting real-life user feedback from customer reviews and analytic tools. This will all outperform the user's expectation as well.
9. App Support and new functionality
Be ahead of other similar shopping apps and provide your customers with ultimate customer support. Try to relish your customers with new features, updates, and improvements.
Core Functionalities of a Shopping App like Wish :
According to the recent mobile app statistics, the number of mobile app users is expected to grow to 6.95 billion by 2020. So, it would be a wiser option for start-ups to develop an online shopping app as great as Wish or Amazon so that it can generate maximum revenues for them.
You need to consider two factors that are Business specifics and technical features. Also, it is not possible to build an app with all the rich functionalities; you can keep it simple and keep on adding features later on.
1. Authorization
The customers being lazy these days hate inputting tons of personal information. So, your shopping app should be built to allow users to sign in through social media accounts like Facebook, Google, etc.
2. Push Notifications
Suppose the app is meant for selling purposes. In that case, it should have the advanced features of push notifications that will inform the customers about the upcoming sales, cart replenishment, and new arrivals, which will prove to be a powerful booster.
3. Search Catalog
The best shopping app is one that could give your site visitors instant results. Features like filters, suggestions, and search result page prompting alternatives can make your app rule the other eStores.
4. Ratings and Revenue
As a start-up, you can skyrocket your conversion rate and revenue if you incorporate the product feature in your application. More than 91% of eCommerce shoppers read the site's reviews compared to a friend's recommendations.
5. Checkout Process
Build your shopping application's checkout process a simple and one-step process because less is often considered more. Aside from all this, it must be fast and less time consuming with built-in auto-fill features as most of the customers leave the app if they find the checkout process too complicated.
6. Payment Gateway
Your app should support different payment options as 30% of the customers leave the app if the payment input method takes too long. Instead, invest a bit more in the payment gateway feature and ensure a flawless payment process.
How much does it cost to develop an app like Wish?
It is hard to estimate the development cost of a shopping app like Wish as we don't have a single answer to it. To save your time and effort, we have compiled everything here for you.
Depending on the technology stack, development approach(either custom, cross-platform or native), the exact pricing for building a shopping app varies from $5000 to $150,0000+.
Besides this, you need to pay attention to your software development approach and the vendor you choose.
Freelancer :
In case you hire a freelance developer, they might charge you $20 to $99 for an hour. Hiring a freelance developer will be a great choice if you have tight budget constraints. Further, you can calculate the exact cost by multiplying the freelancer's hourly rate by the amount of time needed for app development.
Dedicated Team :
One of the major advantages of hiring a Dedicated team is that you can build the shopping app as per your specifications. Be it a basic app or a medium or a large app with complex design, multiple platforms, the team will provide you the estimate and timeline depending on the project complexity.
So What's next?
While the eCommerce industry is rapidly growing, mCommerce is overriding the scope of eCommerce as more and more users prefer to shop through a mobile application.
You need to make a smarter decision when opting for the tech approach and a software development vendor. Consider the points mentioned in the article from the perspective of both the technology stack and monetization strategies and your wish to develop a shopping app like Wish will become successful.
If you are planning to own an app like Wish, get in touch with the reliable mobile application development company in India, who expertise in developing both native and cross-platform mobile apps.