Conversational marketing focuses on growing a business's sales funnel over personalized real-time conversations with customers. Conversations, in this approach, make or break a customer-business relationship.
With the increasing use of affordable AI and ML based technologies, conversational marketing becomes accessible to businesses of any size which are looking to grow their sales funnel without an astronomical budget. In other words, what sets conversational marketing apart from other sales-oriented marketing strategies is its focus on resourcefulness in finding the right customers and delivering a personalized experience to them.
So, how does it work?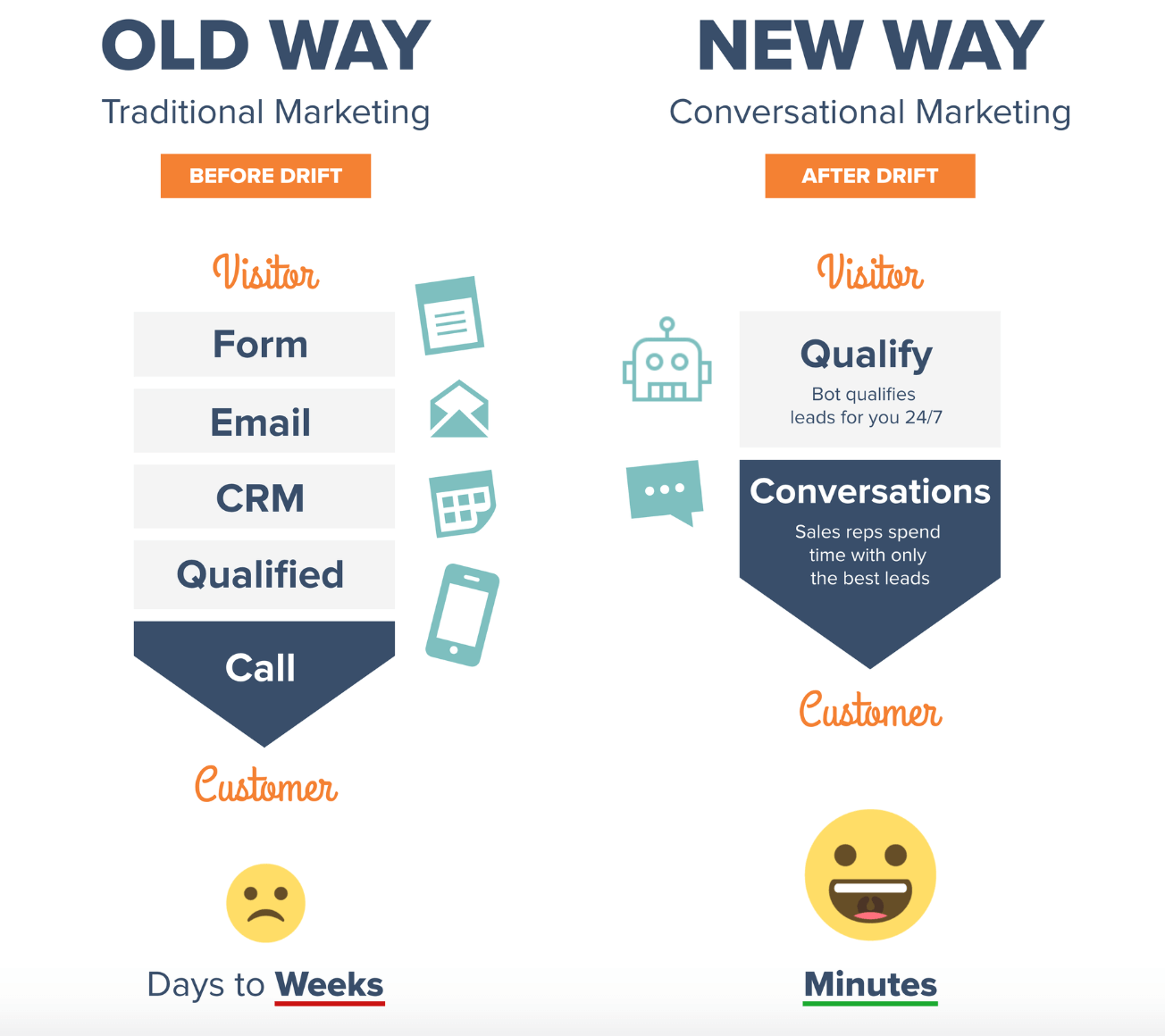 The strategy basically has two elements:


1. Customers determine the logistics

Consumers are impatient, HubSpot research says. Customers and prospects must be able to reach out to you and get a timely response whenever it's convenient for them. Because 82% of them say it's important to get an immediate response regarding a sales or marketing question. Immediate means ''within 10 minutes'', for 62%. This means you have to offer 24/7 live support, with the help of a combination of conversational marketing tools such as conversational AI, chatbots, live chat and more.
It's also important that they can get in touch with you via messenger apps and social channels. Make sure your social accounts are active and accessible to everyone in your target market, regardless of their location or device type.
A good example of this is how Learnsyt, an online course platform, uses a simple WhatsApp click-to-chat button in their blog. Once you click on the icon, you're connected to their Whatsapp account and could start a conversation with them.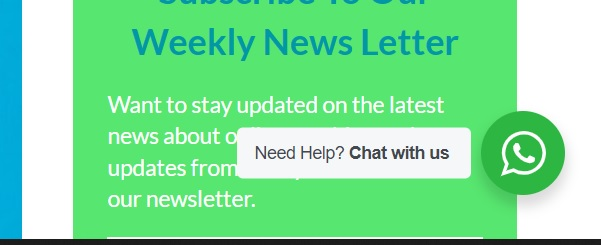 If tracking every interaction seems too hard, using a customer success tool like Intercom or Zendesk would help in monitoring every interaction and touchpoint from across channels. These tools have features that'll help you seamlessly deliver personalized messages to your customers and prospects, and drive them through the sales funnel.
2. Conversations should drive results

Regardless of how well a conversation is held, the important thing is that it leads to somewhere. It holds true for both you, and your customers or prospects. "If a customer or lead comes to you with a question or problem, the conversation must lead you to the right answer or solution. You have to extract data, analyze the issue, and come up with a response, either in the form of knowledge, or action," says Boris Jabes, CEO and Co-Founder of Census. That's how it comes to a result.
If the conversation is initiated by you, it must lead your target to take action. The action can be visiting your resource center to learn more about your products, making a demo request, or buying a product. When this is the case, you have to look at customer data to understand their preferences, interests, and awareness stage. It's the only way to tailor your message to customers at different stages of the buying journey.


5 ways conversational marketing can help you boost sales


1- Shopping assistants increase engagement

47% of consumers say they're comfortable buying an item directly from a chatbot. So if you're worried that conversational AI might come across as creepy or unnatural to customers, we're in a different age now. 91% of consumers say that they're more likely to buy from brands that remember their preferences and offer relevant deals and recommendations. In other words, they're expecting a personalized experience, and brands must deliver it.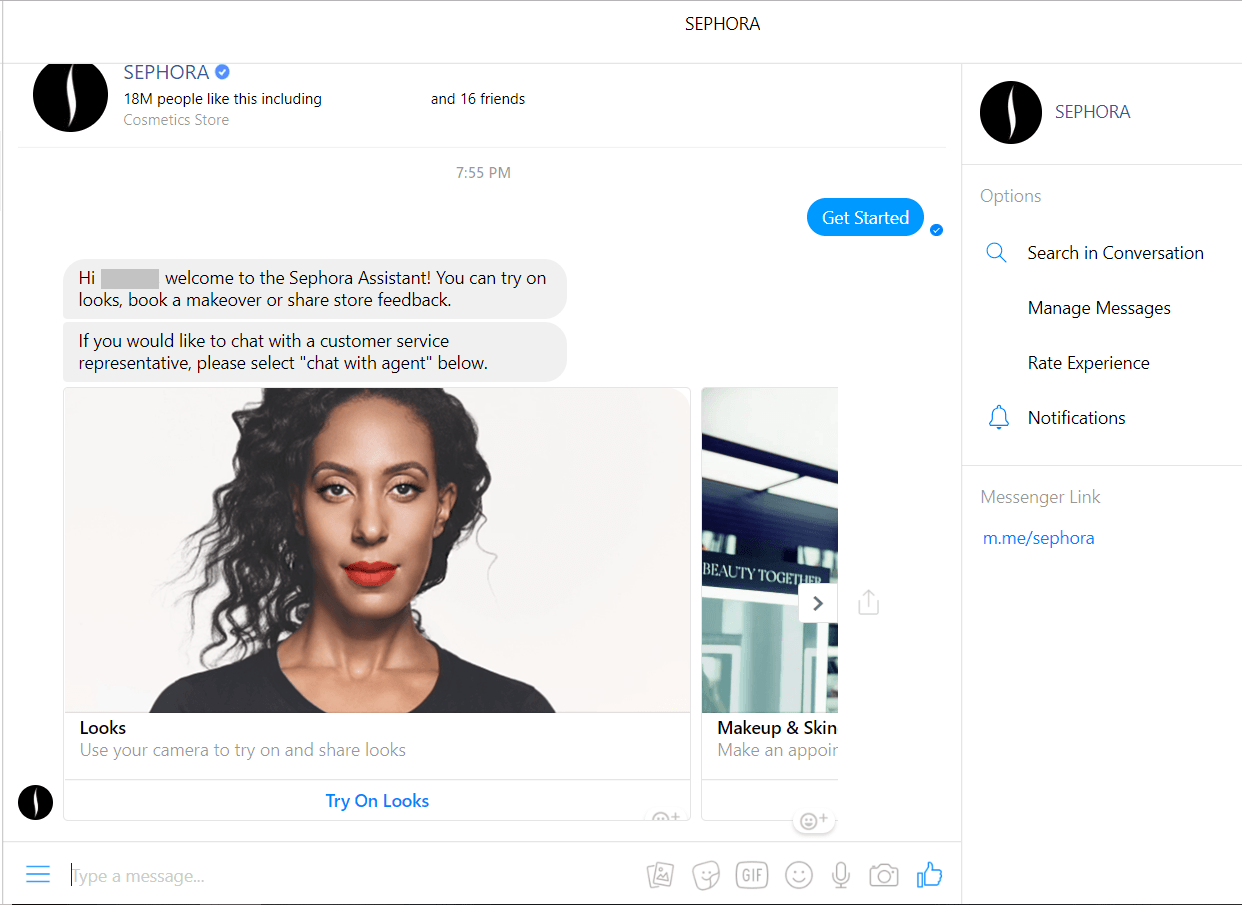 Source: https://martech.zone/ecommerce-virtual-shopping-assistant/
Take Sephora's virtual shopping assistant, for instance. It welcomes the visitor, which is something that resembles an in-store shopping experience. Then it asks a question, to identify visitors that need help from a customer service representative—which saves time for the customer service agents.
Finally, it encourages the customer to try on looks, which'll increase their likelihood of making a purchase. Use a recommendation engine, internal or as a service, to offer personalized recommendations based on customers' historical data and real-time responses.
Building an internal engine can be difficult. You need to use an app, pluggin, or use several tools, such as NLP datasets, together to get the same result.


2- Loyalty programs work much better with conversational marketing

Loyalty programs have been around for a long time. However, the consumer is changing. Recent McKinsey study found that discount-based loyalty programs are not enough to keep customers today. Customers expect different experiences and to feel connected with the brand⁠—value beyond transaction.


Source: https://www.mckinsey.com/business-functions/growth-marketing-and-sales/our-insights/preparing-for-loyaltys-next-frontier-ecosystems
So instead of siloed discount-based loyalty programs that offer nothing but monetary benefits, McKinsey suggests that businesses should create their own loyalty ecosystem, providing customers complementary product and service offerings, from which they can choose the best that fits their needs.
Check out Citibank's loyalty program, for instance.


The company allows its customers to use their points the way they want, rather than forcing them to use it for a single predetermined purpose. Use conversational marketing tools such as live chat, chatbot, and messenger apps to learn what customers are actually interested in receiving in return for their loyalty, and offer reward options that they can choose from.


3- Chatbots automate processes

Both B2B and B2C businesses now create content that helps their brand resonate with their audience. However, not all businesses are able to effectively turn that attention into sales. Chatbots could be used to automate some of your business processes such as lead generation and customer service.
Insert chatbots in your homepage, blog posts, knowledge base, report pages and more. "When a visitor lands on those pages, these tools automatically start conversations that'll drive them to make a purchase," says Ben Rollins, Co-Founder of Axon Optics. Combining chatbots with email marketing could be fruitful as well. Barbora Jassova explains how this match could be useful in her email marketing vs. chatbots article.
Say you have a web form that has seen some results but needs optimizing. You could replace it with a chatbot, which has been set up with a series of qualifying questions, based on the fields of your web form . . . . On the front end, the user is having a seemingly innocuous chat with a support agent/bot. In the background, the system is sorting their information based on preferences, requests and needs. . . . With the data collected, you can then use these to create segmented lists, which allow for an extra layer of personalized content - guaranteed to increase conversion rates.
Chatbots for customer service are pretty popular these days, and have features such as artificial intelligence, visual flow builders, omnichannel messaging support, live chat handover, detailed analytics,etc.
Say for instance, you're selling outdoor sports equipment. On your blog, you just published an article that talks about the importance of using a headlamp when trekking, for safety reasons. A visitor, who's a newbie in outdoor sports, just found out its importance.
You can add a CTA to the blog, and ask the readers if they have questions about LED Torch and headlamp equipment. If they click on it, the chatbot can pop up and offer information about the product with a link that goes to a product page. This way, you'll be able to have a conversation with someone who didn't have an intention to do so, and streamline their buying journey.


4- Conversational display ads drive results

A problem with generic display ads that account for the majority of the ads we see everyday is that they're not the best at keeping our attention, even if they manage to capture it at first. Conversational display ads overcome that problem. Auto giant Ford tested conversational display ads' effectiveness by running them using AdLingo—a Google platform—and saw a 38% relative increase in purchase intent with a 40% reduction in cost per micro-conversion vs. the company benchmark.



Run conversational display ads to lead prospects into visiting your product pages. Ask them a few questions to understand their intentions, but keep it simple. Try for instance, to capture what drives them to make a purchase. If what they're looking for is affordability, direct them to more affordable products. If they value sustainability over affordability, make sure to recommend products that stand out with their robustness, durability, and sustainable production processes.


5- Social conversations build trust

Back in the days of mom-and-pop stores, shop owners would have to be present in their shops, to make sure the customer is well taken care of, and is happy with the experience. At the same time, they were socializing with their customers. Customers would trust the store owner's capability to answer questions around and resolve issues in their area of expertise. In return, the store owner would benefit from that trust and communication, which are two pillars of a strong customer-business relationship.

Today, that level of intimacy between customers and shop owners is mainly transferred to social media. The connection is not exactly physical anymore, but it is still needed. That's why 70% of consumers say they feel more connected to a brand whose CEO is active on social media. If you want customers to feel connected to you, regardless of how physically far they are, you'll have to show them there are real people behind the brand.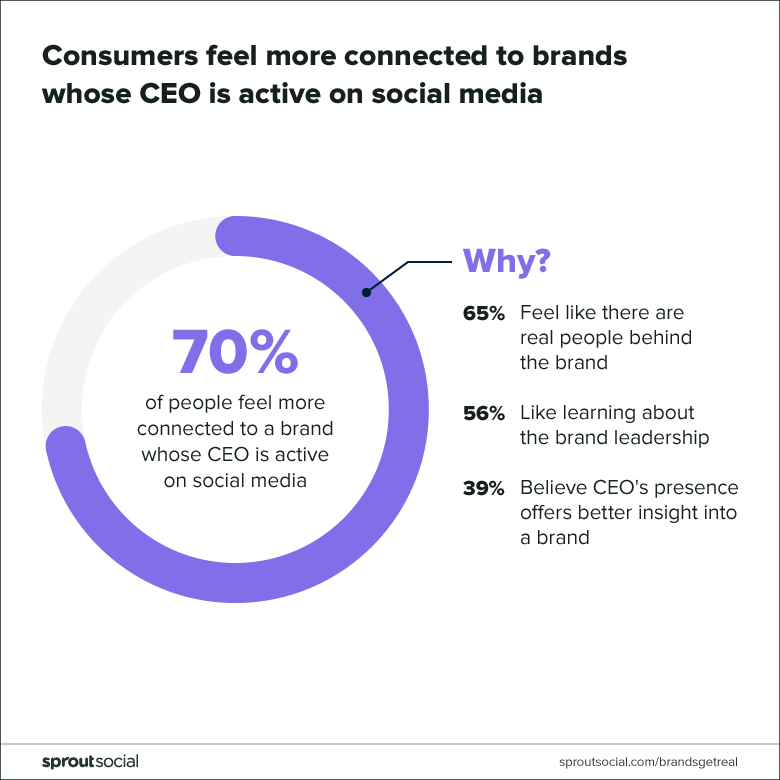 Source: https://sproutsocial.com/insights/data/social-media-connection/
The important thing to remember is, you have to be genuine. Your brand's tone of voice must reflect its values, and must be coherent across channels or your community software. Find your brand's unique tone of voice, get inspiration from what you think differentiates you from all the other brands that race for the same attention. Take these two fashion brands for example: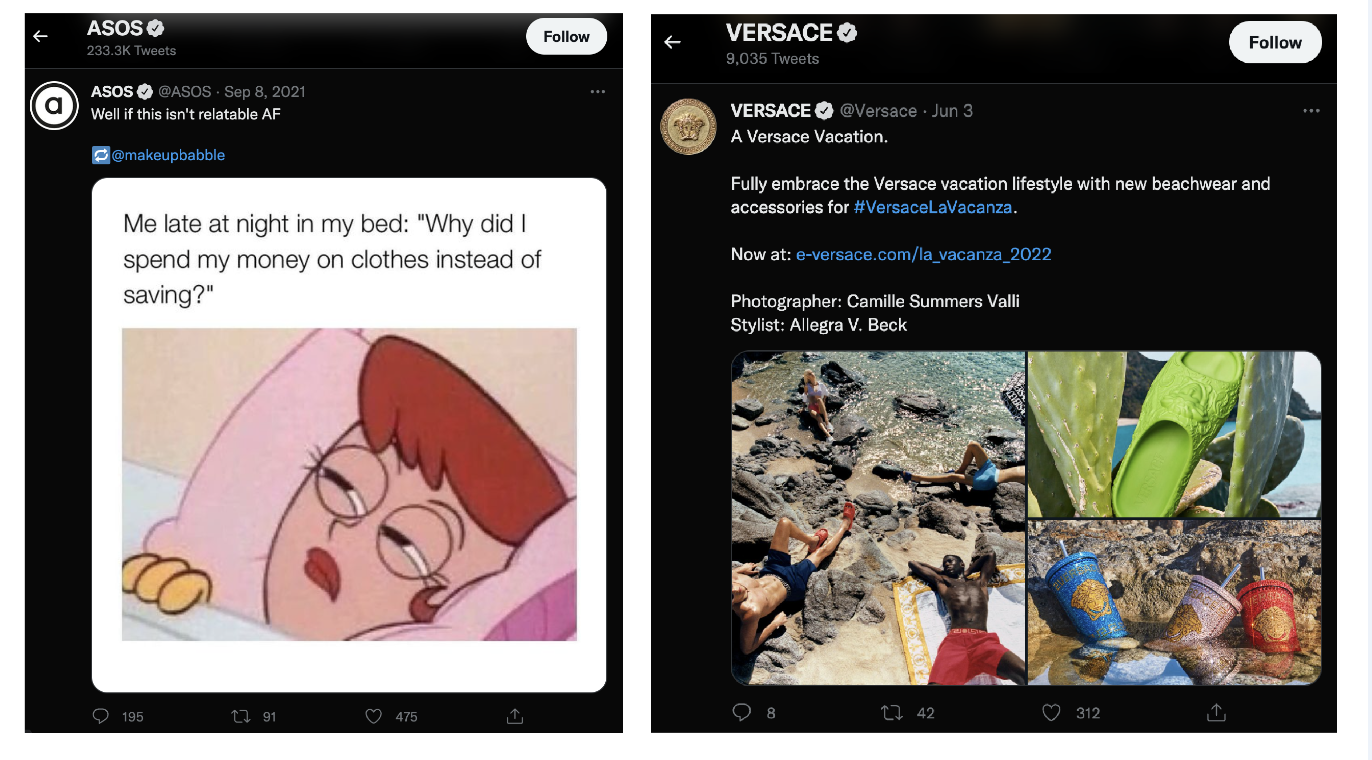 Notice that their target markets separate from each other on so many levels, and these brands' purpose is to appeal to their audience. This will not come to you overnight. You'll start from somewhere, and consistency will be the key to building your own audience. With time, and using the right tools such as IG tools, you'll get closer to your customers, better understand their agenda, and become their go-to address in matters related to your business.
Finally:

Customers are more at ease to express their concerns through engaging conversations with brands. So apart from the benefits listed above, conversational marketing channels such as messenger apps, social media conversations, sms, live chat and chatbots are all cheap but effective ways to gain customer intelligence.
Brands typically consider these channels ideal for running their voice of customer (VoC) programs. Conversations could be started to elicit your customers' feedback on particular issues such as their opinions about your new feature. The data could be organized and even visualized using visual reporting tools to give you a clearer idea of how you should optimize your customer journey. So make sure to use your conversational marketing channels to get to know your customers as well.