The holiday sales period is a golden opportunity for you to make more sales for your store. Especially when you advertise your promotions with email marketing.
However, by making some small improvements to your email campaign you'll be able to realize even greater results.
So with that in mind, here are five tips to improve your holiday email marketing.
Holiday Email Marketing Tips
1) Don't leave it to the last minute
The biggest problem email marketers have when it comes to their holiday campaigns, is that they all-too-often leave it too late before they send their first email.
The longer you wait to get your first email out, the greater chance you're giving your competitors to get their campaigns out and capture a greater share of customers' wallets.
Ideally, to give yourself the best chance of capturing people's attention before your competitors do, you'll get your first email out before the holiday has even begun. You can easily do this by sending a teaser or pre-announcement style campaign like the ones in the next section.
2) Send more than one email
In addition to leaving the first email too late, too many merchants also fail to send any additional emails afterward.
While you don't want to annoy your subscribers with too many emails, a proper campaign consists of multiple emails spaced out in the lead up to and during your holiday sale. This ensures the maximum amount of people on your list are aware of your sale, increasing your conversion rate.
Regardless of which holiday you're holding a sale for, a typical campaign structure could look something like this:
A pre-sale teaser or announcement email sharing details of your upcoming sale to get people excited. Like in the example below from Apple.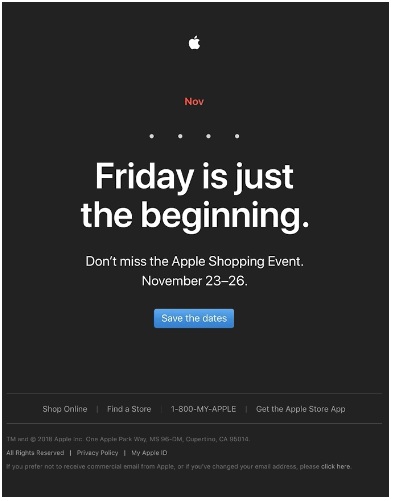 An email to let customers know your sale has begun. Such as in the example below from Carhartt.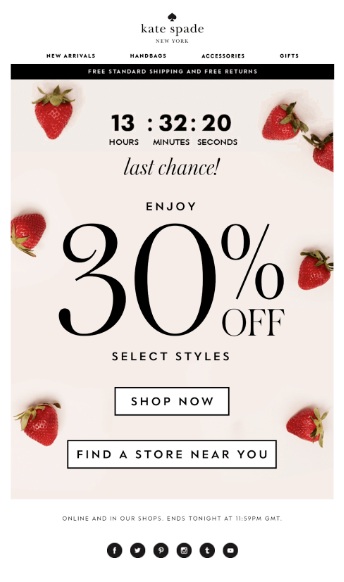 3) Don't forget about smaller holidays and events
Arguably the most significant shopping event of the year for retailers globally is Black Friday, which means that just about every merchant will hold a sale. The same goes for Cyber Monday and online stores.

While it can definitely be worthwhile to go after these big-name events and holidays, it can be hard to cut through the noise when people's inboxes are flooded with sale emails from everyone else.

That's why it's important not to overlook smaller and less-known holidays or regional ones where you'll stand a better chance of standing out from the crowd.

For example, Small Business Saturday is nestled right in between Black Friday and Cyber Monday and if you're a small retailer, gives you the perfect opportunity to shine.

Of course, there are plenty of other examples as well. Particularly if you look for events celebrated in your own region.

Another great strategy is to look for 'national day of' or 'international day of' something related to your product or service offering. For example, National Cat Day on October 29 in the United States is a great opportunity for pet stores to run a special on their cat products.
4) Make sure you have all the necessary email automations set up
Email automations like welcome series, abandoned carts, thank you for your purchase, and win-back campaigns are all automations you should have running all the time. However, these become even more important during the holiday season.

When people do their holiday shopping online, they tend to browse several different sites at once, adding products to their cart from multiple stores. It's then no wonder that cart abandonment rates increase during the holiday season, which is why it's important to have abandoned cart recovery emails going to mitigate this problem.

Another reason is that you'll be acquiring brand new customers for the first time from your holiday promotions.

To engage first-time customers and get them coming back, you'll want to build a relationship with a welcome series and by checking in to see how they're enjoying their purchase. This leads into the final tip.
5) Follow up with customers after the holiday rush
Instead of always focusing your efforts on acquiring new customers, you'll want to as much attention, if not more, to retaining customers. Especially when it costs six times as much to acquire a new customer than making another sale to an existing one.

In terms of which emails you should send new customers, a typical post-purchase automation might consist of a structure similar to:


A 'thank you for your purchase' email after the customer has received their order where you simply thank them sincerely for their custom. A more substantial thank you in the form of a promo code for their next purchase is a great way of actively incentivizing their next purchase.
A review request email that asks for feedback on the customer's experience. This provides an opportunity for any issues to be resolved if the customer has not yet raised them.
A cross-sell email that recommends complementary or similar products to what was originally purchased.
A win-back email if the customer still hasn't made a second purchase after a considerable amount of time.
These emails will at the very least keep your brand top of mind for when your customer wants to buy a product you're selling. Ideally, these emails will incentivize your newfound customer to make a purchase much sooner than they otherwise would have.
Wrapping up
It's easy to see a sales bump during the holiday shopping season. Converting this bump into a lasting improvement to your bottom line requires a bit more effort, however.
But by implementing these five email marketing tips, you'll be in a position to make the most of whatever holiday season you're heading into.
So now is the time to start preparing your email marketing for the holidays!