In March 2022, Google announced that a new version of Google Analytics is on the way - GA4 (or Google Analytics 4).
This article is going to brief us on the key differences between GA4 and Universal Analytics. We will find out what can be expected from Google's 'next-generation measurement solution' in terms of changes and what users should be on the lookout for.
People should be excited about GA4 and this article is going to explain why.
What You're Using Right Now - Google Universal Analytics
Universal Analytics is a version of Google Analytics that started on October 2012. But on March 16, 2022, Google announced that UA will expire by July 1, 2023.
UA is an analytics platform offered by Google that allows users to collect data from various sources across different devices.
UA is an upgrade from the original Google Analytics platform, and it offers several new features and enhancements over its predecessor.
One of the most notable changes with UA is that it allows data collection from a wider range of devices, including mobile apps, websites, and other internet-connected devices.
Additionally, UA provides more detailed information on user behavior, including how users interact with your website or app and what paths they take to navigate through it.
The New Google Analytics 4
Google Analytics 4 or GA4 is the next thing after Universal Analytics. Google Analytics 4 is a newer version of Google Analytics that was released in October of 2018.
GA4 has many new and exciting features that UA does not have. Some of the features of GA4 include predictive tools, custom events, and some omitted features from its predecessor's model.
These features make GA4 much more user-friendly and customizable than UA. Additionally, Google Analytics 4 is faster and more efficient on many levels than UA.
Overall, Google Analytics 4 is a great updated version of Google Analytics that offers many new and exciting features.
5 Exciting Things to Expect from Google Analytics 4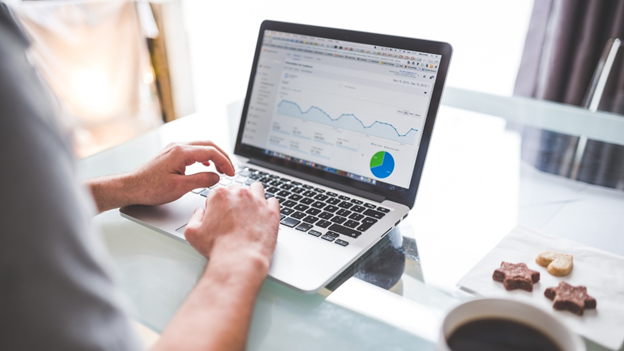 Google Analytics 4 is the new version of Google's popular website analytics platform. It offers a number of enhancements over UA, its predecessor.
While UA is still available and supported, Google recommends that users migrate to GA4. But how different really is GA4 vs UA? Let's find out.
Here are 5 exciting things to expect from GA4:
1. User-friendliness
GA4 is more user-friendly, so it will make any user's app and web tracking a lot more effective, no matter what google analytics property is involved. And it is user-friendly based on two different angles. First, it's more user-friendly to the actual users of the tool.
Because fewer steps are involved in setting up goals and tracking conversions, the user interface becomes simpler and easier to understand. In addition, creating custom reports and comparing app data between different time periods is also easier.
Universal Analytics, however, can be more complicated to use. The user interface is more cluttered, and more steps are involved in setting goals and tracking conversions.
Here's something that people will love. GA4 is also considered user-friendly because, unlike Universal Analytics, it doesn't collect sensitive user-specific data, specifically IP addresses.
This will probably be one of the most notable features—or more like lack of feature—that the users of the tool will notice as they move on to GA4.
2. The model
Users of UA are used to the tool's session-based data model. While that has proven its effectiveness over the years, as GA4 takes over, users will be introduced to the tool's newer event-based model.
What is an event-based data model? Or what is an 'event'?
In Google Analytics 4, 'events' refer to every 'hit.' Unlike in UA, where there are notions for Category, Action, or Label—in GA4, notions no longer exist. In fact, all actions in GA4 are considered events, and it is where all the data will come from.
Let's say a page visitor clicks a 'sign-up' button on one of your pages. This action will then correspond to a 'sign_up event.' Before they viewed that page, a 'page_view event' would've also been triggered.
This decision by Google promotes a more holistic measurement for users.
3. Metrics and reporting
The 'bounce rate' is a big thing in UA, and many users have taken great value from data driven by this metric. However, in GA4, we will be saying goodbye to the bounce rate.
Instead of bounce rates, GA4's new measurement model gives you engaged sessions, engagement rate, and engaged sessions per user.
Its reporting interface will also be getting a new look as GA4 comes. In UA, there are over 20 different types of reports under 'Acquisition,' and that's all going away as GA4 standardizes.
From several different reports down to three, GA4 focuses users on 'Acquisition Overview,' 'User Acquisition,' and 'Traffic Acquisition.' KPI Report customizability is also available to users despite the decrease in the variety of reports in the tool.
UA's 'view' will also be saying goodbye in GA4. In GA4, the view section where we see data reports will become 'data streams.'
The change to 'data stream' and the other metrics promises a far more efficient way of data collection for users.
4. Conversions
When using UA, users are accustomed to getting one conversion per session for each of the goals they set. But when it comes to GA4, the limitations on converting multiple sessions from the same user will be removed.
For example, let's say you handle ecommerce transactions and you set up an 'add to cart' action as a conversion event. Even if website users click twice, thrice, or four times in one session, that action will be taken as a conversion each time it happens and not just as one conversion.
In addition to that change, the type of goals supported will also be tweaked in GA4. If UA supports five goal types, namely: destination, duration, pages/session, smart goals, and event goals—GA4, on the other hand, will only support the sole 'conversion events.'
5. Detecting Anomalies and Predictive Analytics
Previously, the anomaly detection feature was only allowed for insights in the Universal Analytics version. While this didn't give users major issues, GA4 raised the level by enabling anomaly detection on the majority of the charts.
This feature in GA4 will also function hand-in-hand with the tool's predictive analytics (historical data is needed for this).
Before, for UA users, using predictive features could only be achieved with the help of third-party tools that come with a price. But now, with GA4, it's completely free and operates immediately after setup—giving you predictive results on who among your audience is more likely to purchase from you.
In Summary
Google Analytics 4 offers exciting new features over current Universal Analytics properties. These changes include a new event-based data model, metric and reporting changes, conversion changes, and anomaly detection.
Users who prioritize efficiency when it comes to the use of the tool, how data is collected, and how it's analyzed will find the changes in GA4 something to be excited for.