Google and Facebook are two well-known platforms in the digital space. However, the targeting capabilities and audience size of Google and Facebook ads are excellent, so it can be challenging to choose between the two. To help you make a smart choice between Facebook and Google ads, we have listed a detailed guide; read the article to find the difference between the two.
Google and Facebook ads are the leading pay-per-click ad platforms. Google ads are the best for products, services, and brands that people are mostly searching for, whereas Facebook ads are perfect for products and services that the target audience isn't necessarily browsing for but is likely interested in. Let's explore every detail about the two, from what it is to the benefits and differences in this article.
What are Facebook Ads?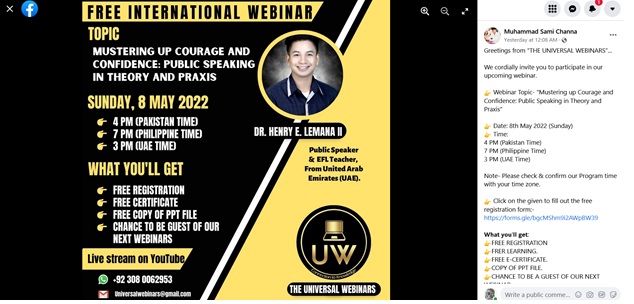 Facebook is a powerful social platform for businesses and individuals to advertise. With more than 2.93 billion monthly active users in 2022, Facebook is one of the most used online social networks.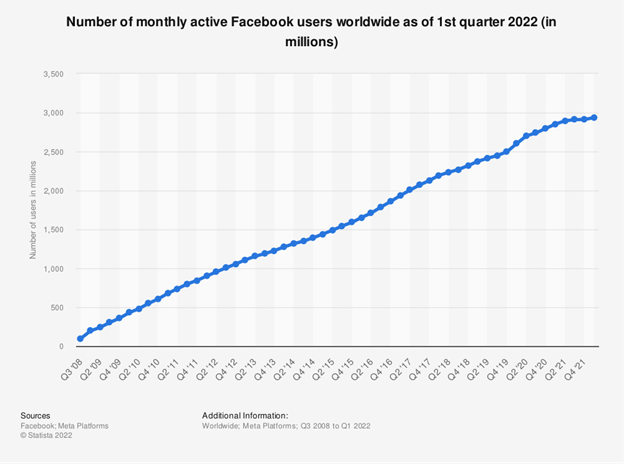 Facebook advertising entails running and creating ad campaigns using the Facebook ads manager tools to reach the target audience based on the demographics, profile data, and location. You can choose where you want to run the ads, either on Instagram, Facebook, the audience network, or the target device.
It enables you to analyze and track the performance of the ad campaigns in line with business needs. Facebook ads are for hosting brand engagement and awareness, driving traffic, increasing reach, creating awareness, and generating leads.
Advantages of Facebook Ads
Reach a wider audience;
Align with both B2B and B2C businesses;
Audience transparency;
Competitor targeting;
Variety of ad formats;
Psychographic targeting;
Drive traffic directly to your site;
Full-funnel targeting with multiple forms of engagement.
Facebook ads show your advertising to an audience that would match the description. This is where Facebook ads have the edge over Google ads. By leveraging these ads, you can reach more users with a better CTR.
What are Google Ads?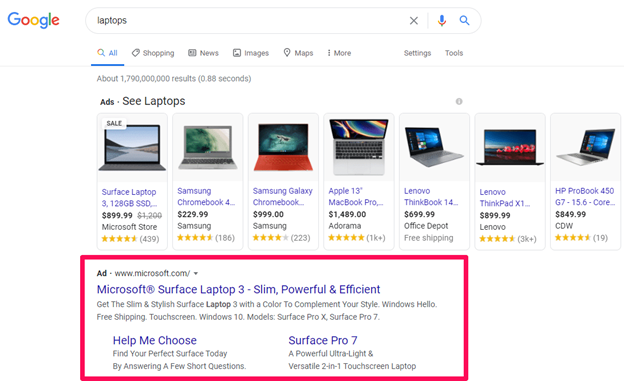 Google handles more than 3 million searches per minute, 228 million searches per hour, 5.6 billion queries per day, and 2 trillion searches per year. Google ads are the best advertising platform that works actively on the auction system. This takes place each time a user performs keyword research. You need to optimize the bid amount and quality score while creating the Google ads and make them appear on the top with a keyword you choose.

Advantages of Google Ads
Harness intent;
Boost reach;
Helps you have full control of campaigns at all times;
Bring the budget to the table;
Get quicker results;
Build brand awareness.
Google ads offer quite simple text-based ads on search engines. It has evolved to consist of features that improve clickthrough rates like contact details, shopping functions, mobile optimization, and more. Google ads boast an interface laced with features such as search term report, auction insights, ads editor, and more.
Google Ads is developed by Google to serve as an online advertising platform where advertisers bid to display product listings, brief advertisements, or videos to web users/visitors. Facebook Ads, on the other hand, is an online advertising platform majorly used for paid social campaigns on Facebook.
Difference Between Google Ads and Facebook Ads
Google and Facebook have extended their reach to all corners of the web. Google network has reached more than 90% of people online, whereas the searches in its proprietary engine have topped a trillion. Facebook is the most extensive social channel, with billions of users.
Marketers are no strangers to Facebook and Google networks; they know well that it's worth dollar advertising. There are various differences between the two; explore differences between Google Ads and Facebook ads to make the smart choice between the two.
| | | |
| --- | --- | --- |
| | Facebook Ads | Google Ads |
| Buyer Intent | More suitable for brand awareness | More suitable for purchase intent |
| Audience Targeting | Granular audience targeting by interests, demographics, behaviors, and more | Comprehensive targeting by keywords with demographics targeting capabilities |
| Cost | Get more clicks and exposure for lower costs | Pay for clicks, but users are likely to convert |
| Size of Audience | Around 2 billion daily active users | More than 3 billion searches every day |
| Audience Engagement | Around 50% of marketers agree that the audience is likely to engage with Facebook ads | Almost 45% of marketers stated that their audience is likely to engage with Google ads |
| Ad Placements | Messenger ads | Shopping ads |
| Works Best | Social component and Low-cost products | High-cost products and retargeting ads |
| Targeting Options | Comprehensive | Limited |
| Ad Placement Options | Facebook, Messenger, expanded audience network, and Instagram | Google search partners |
| | | |
| --- | --- | --- |
| Ad Types | Slideshow, Image, Video, Instant Experience, Collection, etc | Call-only, Shopping Ads, Text, etc |
| Avg. Click-through Rate | 1.11% | 2% |
| Avg. Conversion Rate | 9.21% | 4.40% |
| Interface | User-friendly interface | Cumbersome interface |
Google ads and Facebook ads are significant drivers for businesses and companies to increase their reach. Both the ad platforms have many common things; however, there are a few differences that determine the reach. If you have limited money and time, it becomes difficult for you to decide which to choose for advertising. Both platforms are easy-to-use, robust, and offer advanced features.

How Do Google Ads and Facebook Ads Work?

Both Google ads and Facebook ads are PPC advertising platforms with a competitive bidding system; they perform in different ways. Facebook ads are paid advertisements that appear to the audience on social platforms. On the other hand, Google ads are paid advertisements that appear on Google search results.

How You Can Evaluate Facebook Ads and Google Ads
It is difficult to advertise your business; however, trying different options is costly and time-consuming. Nevertheless, when it comes to advertising on Google or Facebook, then there are lots of criteria that you need to consider; these include:
Cost
Audience intent
Audience targeting
Ad placement options
Ad types
Ease of use
Customer service
User reviews
If you are looking to increase your business sales, you are recommended to go with Google Ads. Businesses that are looking to boost their brand awareness can choose to go with Facebook ads. This social platform makes it easier for people to introduce their products or services to their targeted audience.
Streaming businesses seeking an audience or viewers would receive a return by launching Google Ad advertising options. They can even choose to advertise about their video streaming script on social platforms, including Facebook. They can take support from Facebook ads to promote their newly released content.
Google Ads and Facebook Ads: Which You Must Use?
Facebook ads and Google ads are powerful advertising platforms that cater to every business type. You can choose any to strengthen your business and increase your presence online. There are quite similarities between both the platforms; both have evolved independently and must be used as per your business needs. Harnessing the power of Google ads and Facebook ads is a remarkably effective strategy.