An enterprise resource planning (ERP) system is a software application that automates business processes and provides insights and internal controls. This is accomplished by using a centralized database that consolidates data from several departments, including accounting, supply chain, manufacturing, marketing, sales, and human resources (HR). Moreover, a comprehensive ERP system contains corporate performance management software, enabling firms to plan, budget, forecast, and report on their financial results.
Amid the growing number of ERP vendors, you may find it increasingly challenging to select the right ERP software for your company. There are numerous factors to consider in order to avoid choosing the incorrect one. Therefore, we've carefully summarized the following ten best ERP software options.
Also read: Advantages of ERP System for Operational Business
What is the Best ERP Software?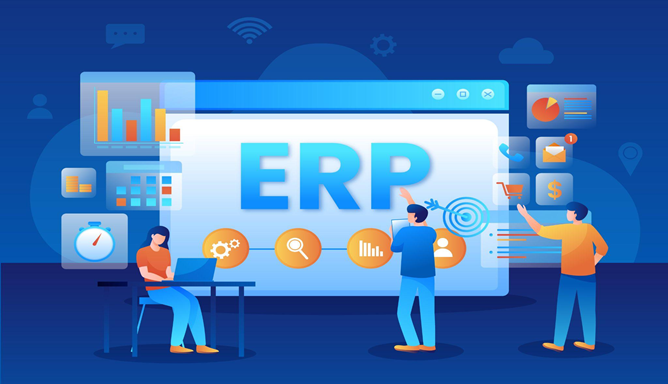 As we stated above, there are various ERP software available, but the following are the best ones on the market right now.
1. HashMicro
HashMicro Singapore is a leading ERP software provider that recognizes the importance of enterprises' productivity and efficiency. It is a cloud-based ERP solution that can be integrated with various other systems, including accounting, inventory, CRM, sales, procurement, and HRM. HashMicro has served more than 350 clients across fifteen industries, ranging from F&B, Manufacturing, Retail, Construction, Trading, and more. Most importantly, HashMicro is committed to product innovation and constant improvement.
Key Features:
Data Management: HashMicro can easily and securely manage your entire company data. From the financial, employee, and other important information, all of your company data will be kept with the best security system. At the same time, people who have authority can access those data anytime and anywhere.
Integrated System: HashMicro can assist you in improving divisional collaboration. This is achievable since all components are integrated. With that, you can also make the best decisions possible using precise and real-time data from each division.
Software Configuration: HashMicro can be customized to meet each business's specific requirements and apply to a wide variety of industries.
2. Syspro
Syspro's business model is based on three principles: be future-proof, provide specific solutions, and ease the use of their ERP software. With Syspro's expertise in distribution and manufacturing, businesses in Singapore can receive the right tailor-made solution to move their business forward. They ensure that their system can also quickly adapt to changes in operations, such as growing your business's growth.
3. Epicor
Epicor is a cloud-based ERP software provider in Singapore. It enables organizations to scale, grow, and innovate without interfering with their day-to-day operations. Epicor offers a comprehensive suite of business management systems, including customer relationship management (CRM), human resource management (HRM), and supply chain management (SCM).
4. Synergix Technologies
Synergix Technologies was founded in 1990 and provided comprehensive ERP software for various business needs. They can offer an integrated and fully configurable ERP solution on any server and operating system with ease of maintenance. Furthermore, they assure your operations and business can be run entirely through their cloud-based ERP solution.
Also read: 5 Best ERP Software Package in Singapore
5. Acumatica
Acumatica enables developing small and mid-market businesses to achieve operational flexibility, continuity, and efficiency. It also can integrate seamlessly with your preferred collaboration tools. Acumatica's core product is well regarded in the accounting, finance, and some industry sectors.
6. Oracle NetSuite
NetSuite was founded in 1998 and is based in California, United States. Oracle acquired NetSuite in July 2016 to establish Oracle NetSuite. Businesses use NetSuite for inventory management, human resource management, financial monitoring, and customer relationship management. Furthermore, this customizable platform is mobile-friendly; users can access it from the Google Playstore on Android-based devices.
7. Odoo
This system integrates modules for manufacturing, sales, accounting, project management, customer relationship management, and warehouse management. Odoo comprises around 30 primary updated modules to maximize collaboration and information exchange between employees. Due to its open-source design, this software is straightforward to adjust to meet specific business demands.
8. Zoho
While other businesses view marketing as vital for customer acquisition, Zoho is different. This Indian company prioritizes product development and customer service to deliver the most satisfactory service possible. This business model successfully drove Zoho to the level it had never anticipated. This is why Zoho's loyal clients trust the company such as Facebook, Amazon, Netflix, and Suzuki.
9. SAP
SAP (System Application and Product) consists of a collection of integrated modules and serves as an automated tool. The tools include management, planning, monitoring, and production in a company. This software can automate all monitoring tasks and present data in real-time, enabling it to make business decisions quickly and precisely following established goals.
10. Sage
Sage ERP software enables real-time business analytics, supply chain management, financial management, and industry-specific solutions for distribution, manufacturing, professional services, and construction businesses. Sage 50, Sage 100, Sage 300, and Sage X3 are among their ERP products. Each Sage product is tailored to a specific type of business and has unique features.
Conclusion
To automate and consolidate their business functions, companies may find a problem choosing the right ERP software for them. Our list of recommendations above is intended to assist you in selecting the available options so that you can implement the best ERP software for your company. We want to help you further by providing a free consultation that you can get by filling out the form and contacting our customer service. We look forward to hearing from you!