Email marketing is a must for business owners and marketers, and with good reason. Thanks to email marketing, you can engage with connections, cultivate relationships, and, ultimately, convert leads into paying customers.
At the core of any email marketing strategy is the email newsletter. Unlike regular marketing emails that do the hard-selling, email newsletters keep consumers updated about your company. They are a great way to generate leads.
Here are six email newsletter campaigns you can run to do just that. First, though, let's discuss the specific benefits of running email newsletter campaigns.
Benefits of Running Email Newsletter Campaigns
Email newsletters work because they don't do that hard selling you usually see in marketing emails. Hard selling, in general, puts off consumers. Consumers want to feel like they're deciding for themselves. They don't want anyone to force them to make a purchase.
Here's a list of some of the key benefits of running an email marketing campaign:
Thanks to email newsletter campaigns, you can engage with customers.
Increase web traffic with email newsletters.
Improve your brand reputation with your core audience.
Reach consumers without spending a fortune.
In other words, email newsletter campaigns are one of the most cost-effective methods for developing a relationship with your audience.
6 Email Newsletter Campaigns for Lead Generation
We've now covered some of the specific benefits of email newsletter campaigns. Once you've verified your email list, you will be ready to run your email campaign. With that in mind, let's look at six email newsletter campaigns you can run to generate leads and grow your business.
1. New Content Announcement
Use email newsletters to announce new content on your website. That new content can be a new blog post, an ebook, an infographic, new video content, etc. The idea is to get people to your website so they can check those out.
Because the goal is to get them to your website, your copy should be interesting enough to pique your recipients' interest.
Check out this example from Invision: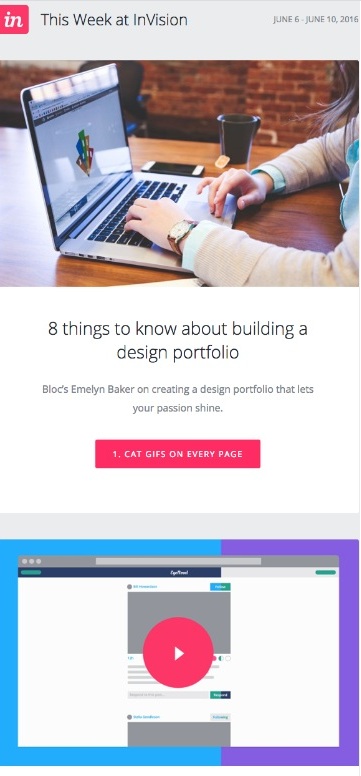 InVision doesn't just include the title of its new blog posts in its email newsletter. It also includes a short paragraph on what the new post is about. Each paragraph, however, doesn't give away too many details, so anyone who wants additional information will have to click on the call-to-action.
That brings us to the next important element in this email newsletter: the CTA.
You have to make sure your CTA stands out. You should follow these steps to make your CTA stand out:
Use high contrast colors: Red and orange, for instance, will stand out against a white background.
Test different button shapes: Will a rectangular CTA button work better than a circular CTA in your product update newsletter?
Ensure legible text: Make your CTA clear and readable.
Use visuals: Use visuals that will go with your CTA. Be careful not to overdo it, though. Remember, you want your CTA to stand out.
You can have more than one CTA, depending on how many new blog posts, for instance, you want to announce.
2. Product Updates
Product update email newsletters are probably the closest thing you get to hard-selling marketing emails. That's why you have to be very careful about how you create and send this email newsletter. If you make a mistake, your email might just end up in the subscriber's trash.
So, don't just enumerate your product's new features. Instead, highlight the benefits your subscribers can get from each product update. According to Namecheap, this is more effective because you specify how your product can solve existing consumer problems. Consumers care about what your product can do specifically for them, not just about what your product can do.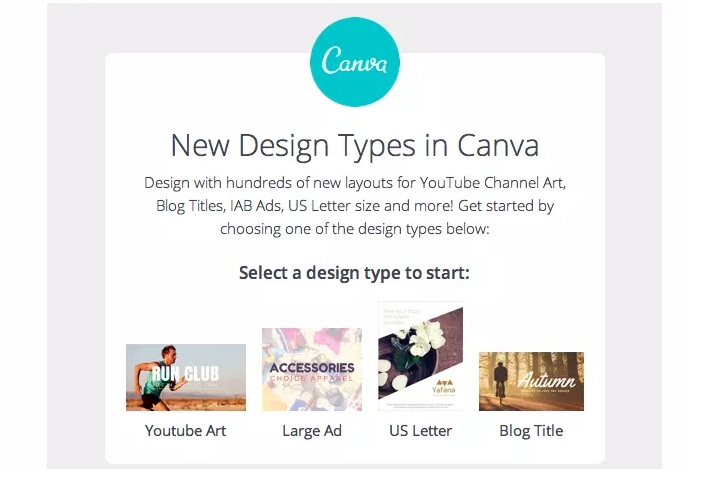 You don't have to send one newsletter for every product update. That might just annoy your recipients. One email newsletter detailing all the product updates for a given period suffices.

3. Event Invites

You can also invite your recipients to company events through email newsletters. Do you have an upcoming webinar? Or maybe you'll be holding a product demonstration soon?

The good thing about inviting via email is you don't have to waste a lot of physical effort and time. You don't have to get out of your house to send out the invites. Also, you can do just that in a few minutes.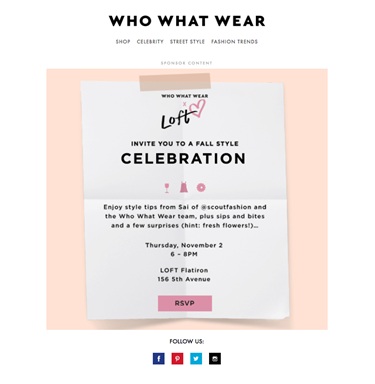 Do the following when creating your email newsletter event invite:
Include relevant details: Don't forget to include the event's time, date, and place.
Pay attention to the copy: Remember, you're inviting people to an event. If your invitation sounds boring, people will think your event is as boring, too, and won't even think of attending.
Keep the design simple: Maintain a single emphasis in your email design. That single emphasis should be your event. That's not to say you can't use visuals in the email newsletter. You can even use GIFs or videos to give more life to your invite.
Use a catchy email subject line: You need to come up with an email subject line that is interesting enough that people will open the email. According to Eventbrite, the key is to emphasize urgency. You'll also want to personalize. If your email subject lines are ordinary, your email newsletter won't even be opened. You can say goodbye to people attending your event.
Use an email countdown timer: an email countdown timer can add a sense of urgency to your offer. There are plenty of email countdown tools available. Many of them are free to use.

Don't forget to include a register button that leads to a landing page on your website. If you send people to your homepage once they click on that button, they are not likely to push through with the registration. After all, who has the time to search for a registration form on a website? Probably not even you.

4. Product Launch
Product launches are supposed to be exciting. Your recipients, however, won't feel that excitement if your email newsletter is too ordinary. You also have to learn how to build up the suspense around your launch.
You need at least three emails in an email sequence to do this:
1st email: Teaser
2nd email: New product announcement
3rd email: Product launch
According to Envoke, the best time to announce the upcoming new product is five to seven days before the launch. In that email newsletter, give your recipients a peek into what's in store for them.
Here's an example from Jack Mason:

You need to withhold some details, though, so your recipients will look forward to your final email in the sequence: the product launch itself.

In this email newsletter, you give the full details about the product, highlighting product benefits.

Here's a sample product launch email newsletter from Casper: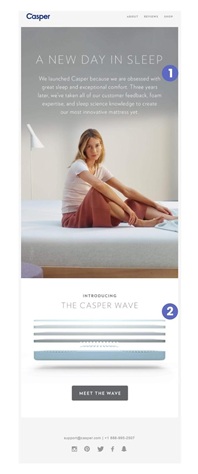 It's simple and concise. The focus of the email newsletter is the new product. If you want to get to know more about it, you can just click on the CTA ("Meet the wave"), and you're directed to a dedicated landing page.

5. Partnership Announcement

Partnership announcements don't have to be complicated. The simpler and more straight-to-the-point your language is, the better. All you need to do, after all, is inform your email recipients about that specific development.

You can highlight your company credentials and your partner credentials in your email newsletter. However, if your partner is already an established brand, you don't need to do this. The good thing about this is that you end up with fewer elements, and your email newsletter has a single focus: the partnership. In other words, you can be assured you get that primary message across.

Check out this example from Black Tux, a tailoring startup. Black Tux sent out this email newsletter when it partnered with Nordstrom, a clothing retailer, to create a Black Tux showroom in some select Nordstrom stores.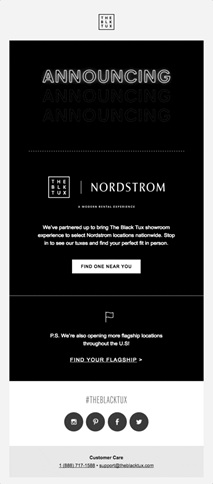 Black Tux did not have to explain what Nordstrom was because everybody knew what it was already. The result? The email newsletter became only all about the partnership.

The email newsletter also did not just aim to inform. It aimed to get people to the showroom as well. Recipients could access the list by clicking on the "Find one near you" CTA button.

6. Seasonal Sales

There's always a holiday around the corner. Halloween, Black Friday SaaS Deals, Christmas, Valentine's Day, you name it.

You can ride on these holidays to generate leads. Giving holiday gift guides, for example, is a perfect way to promote your products subtly. Without doing the hard sell, you're also helping your email recipients make purchase decisions in your favor.

Check out this great example from Birchbox: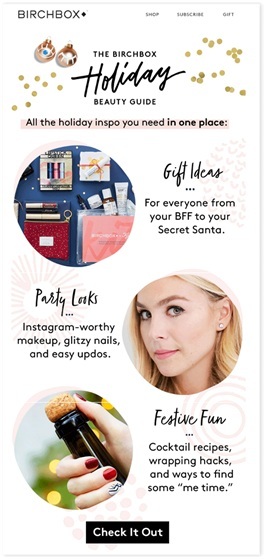 You don't feel like Birchbox is trying to sell you something for Christmas. You feel like the brand just wants to help you decide what to buy for the holidays. Even the CTA is non-commercial.

When you click on the CTA, though, you're bombarded with too many Birchbox products that you end up making a purchase. That's what you call effective selling without actually selling.

In Closing

Email marketing is key to your business' success. With email marketing, you can nurture relationships, establish your authority, and increase brand awareness.

Email newsletters should be part and parcel of those email marketing efforts. They, after all, can help you achieve your marketing goals without putting off consumers who don't like to hear that hard sales pitch.

In this article, I shared six email newsletters you should leverage to help you get more leads. It doesn't matter if it's a product update announcement, a product launch, a partnership announcement, a seasonal sales newsletter, or an event invite. Email newsletter campaigns can help propel your company to success. Good luck with your campaigns!