A pandemic wasn't really something any marketer could have predicted. Yet here we are, with COVID-19 still shaping our realities, making the shift from traditional to digital and email marketing a necessity, and even changing the landscape and creating new trends.
Here's what I mean:
The statistic above comes as no surprise and showcases what we've all come to know and realize: Going digital and online is one of the most lucrative ways to do marketing during COVID and one that is sure to give you more sales.
And since brands are going digital, email marketing couldn't be out of this equation.
But if all brands utilize email marketing, what is it that you need to make your content stand out in 2021? And how will you generate more sales when it comes to your digital marketing game?
Let's find out.
Bright and Beautiful vs. Text Only Templates
More than most email marketing content tends to be one of two things in 2021: either really simple or really bold and bright.
Both tactics aim to help your content stand out and grab the recipient's attention, whether it's the simplicity of it or its boldness that does the trick. Let's see what I mean: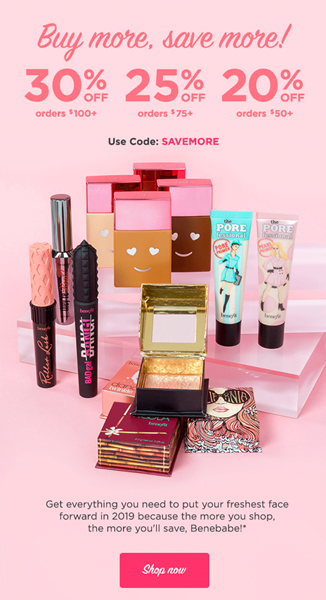 Let's assume that your audience is youthful, fun, and exciting. Creating a text-only email will probably do your brand more harm than good. Benefit Cosmetics knows that very well, and as you can see, the content of its email marketing campaign screams excitement and joy.
Using bright and bold colors is one of the best ways for brands to evoke a certain emotion and nudge the audience towards the desired action without having them think too hard. Actionable verbs, animated images, powerful, bold letters boost engagement and, in the end, will generate more clicks and sales.
However, this is not the only way to go, as there are some instances where an email template doesn't need to be beautiful and bold alone. It needs to be diverse and built through an email newsletter software, like Moosend, that can give marketers a wide variety of options.
If your audience is not all about colors and engagement, you'll need to re-invent your email marketing campaigns with some text-only, strict, plain, and useful content that cuts straight to the chase. Like so: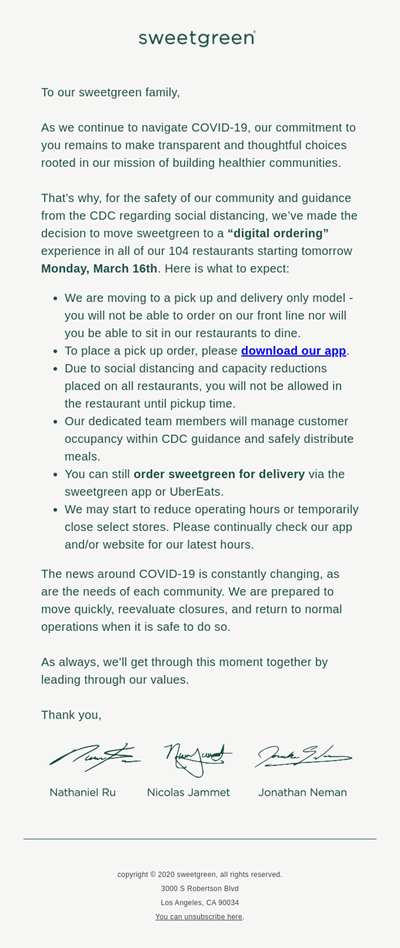 This email addresses a serious issue that won't do well with GIFs and hot pink letters but will perform beautifully when it reaches people that appreciate a personal email that looks more like it's been written by a friend.
Creating both can be welcome by the majority of your audience, not just the segments that will most likely love the change.
Interactive Content Is the New Black
Let me start this off by showing you this: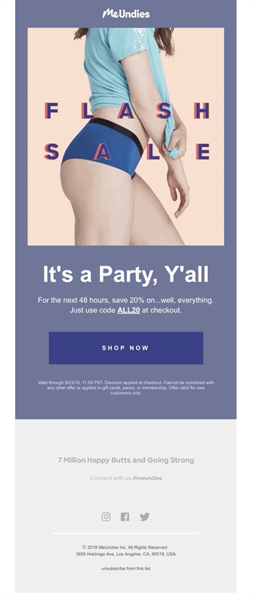 This email marketing campaign from MeUndies shows off more than just one product with the words "SALE" flashing on top. What do you assume by that, if not for the fact that we're talking about a flash sale?
Or, you can use a carousel, like those many users can see through various Facebook ads and banner ads, like so: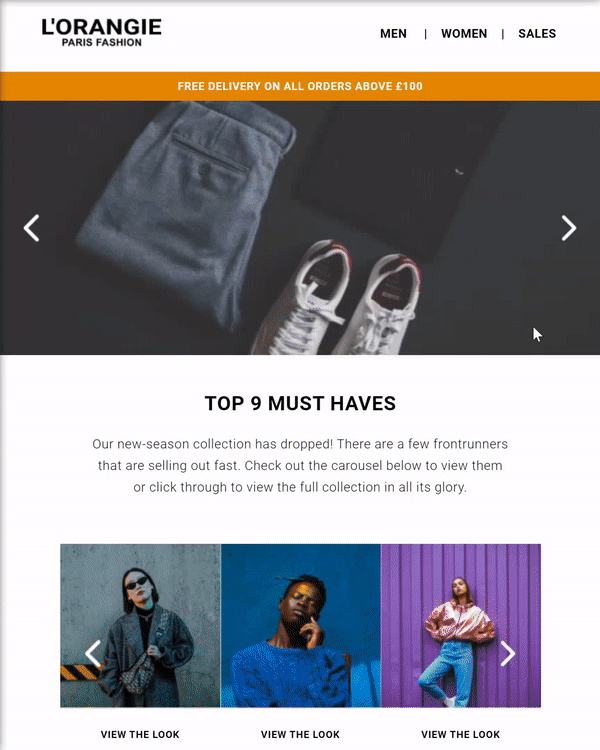 The point in using various engaging and interactive forms of content is to enable your users and prospects to discover more of what your brand has to offer - in terms of products, special deals, and more - without ever leaving the inbox. Not taking an extra step reduces the likelihood of slow loading times and additional friction.
But even if you don't want to do that - or you don't know how -, there are other options for you to go through and boost interactivity. Gamification elements, interactive GIFs, and quizzes that can lead users to an optimized landing page and help you target your audience better boost audience interaction and, in the end, your email marketing campaign's ROI.
Generally speaking, interactive content creates the conditions that are just right to improve and sustain a great User Experience. And a great UX leads to a memorable brand and better conversion.
Hyper-Personalized Content
Hyper-personalization is not a content marketing trend. Actually, it's not a trend, period. It's a strategy, a tactic that has been around for quite some time and is here to stay.
Here's what I mean:

So, according to Forbes' article quoted above, a relevant and tailor-made offer can also lure 90% of consumers. That's a pretty high percentage to pass up. But how can you utilize these facts in email marketing?
Adding a name to your email's subject line won't quite cut it anymore. Users want email campaign content that will look and feel as if it was created for them. In fact, this is a great way to boost your conversion rate and ROI, as personalized content gives your prospects a solution to their problems that will resonate and cover their needs down to a tee.
To achieve perfect hyper-personalization, segment your audience and invest in an email template builder that offers the option of dynamic content that changes according to specific criteria set by you and your marketing team.
You can either choose generic criteria, such as geo-location, or more specific criteria, such as purchase history or the users' behavior on your website.
Using data your users have given up willingly will allow you to group them up, and with a little help from AI and machine learning technology, you will be able to make out the smallest segments possible that will correspond to your prospects on an (almost) one-on-one basis.
Creating small segments and using content that changes according to the segment it applies to - which is what dynamic content does - will help you boost your sales conversion rate and create email marketing campaigns that will lead your prospects exactly where you'd like them to be.
GDPR-Friendly Email Campaign Content
GDPR is nothing to be wary of; however, not creating content and actions that are GDPR-compliant can be fatal for your business before you even break a GDPR law. Here's why: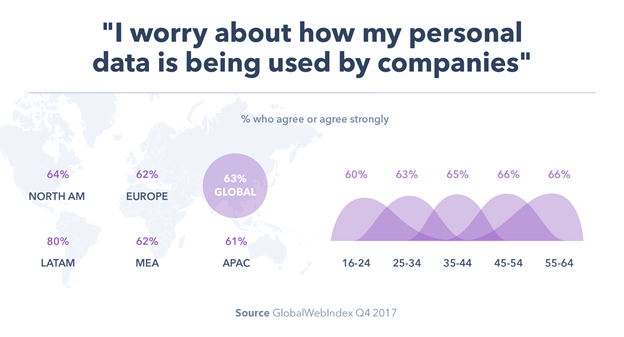 According to the statistic above, not being compliant won't do you any favors when building your customers' trust and loyalty. So, make sure you stay up-to-date with current and future GDPR laws and always let customers know when things are about to change and how you will be using their data.
In a time where personalized content in email campaigns is paramount and CRM software is what helps you keep your data in one place, people are wearier than ever when it comes to giving up their personal information. This may seem like a paradox, but it's your job to tackle their privacy concerns.
So, make sure to always have a link to your Privacy Policy available, create email campaigns that will inform your users of the way you use their data every time this changes, and have an unsubscribe button right there where everyone can see - and click - it.
Honorable Mentions
Before we go, I'd like to point out the importance of creating an email that will look beautiful and useful across all devices. So, make sure to test and test again, as mobile opens increase, and broken images and links are not a good look - not to mention the amount of unsubscribers you could get.
Also, always make sure to A/B test your email marketing campaign's content and utilize NPS campaigns.
Lastly, to make sure your content is useful and spot-on when it comes to what your users would love to see, never forget to ask various teams for feedback and strategy ideas. Nobody knows what the customers want better than the sales team, and nobody knows what problems your email's content could help resolve better than the support team.
The Takeaway
Email marketing has evolved and is one of the most lucrative tools to use in your marketing plan as a whole, especially now during COVID.
Brands seem to become more "personal" and invest in email marketing content that helps them seem human. And what better way to put a human touch to your marketing plan than using the medium that builds relationships?
Just make sure to A/B test, use personalization and dynamic content, and know when text-only works better than bright and bold, and you'll be ready to take the email marketing content world by storm.