If you're looking for new ways to grow your brand, an ambassador program could be a good choice.
Ambassadors collaborate with brands and share genuine reviews, social media posts, and blog posts. These are long-term and mutually beneficial relationships with ongoing perks.
Running these programs can be time-consuming, so it's important to get them right.
If you're not sure where to start, we're here to help. Read on for our top seven tips for running a successful brand ambassador program.
1. Choose Your Media
First, you need to decide where your ambassadors will post branded content.
You may want to choose a social media platform where you already have a strong presence. You can use this strategy to re-engage your audience and expand your reach.
Or you may prefer to use a platform where your brand is unknown. You can work with ambassadors to open the door of your brand promise to different customers and demographics.
Next, think about the look and feel of your campaign. Do you want a photographic-rich campaign on Instagram? Maybe you'd rather have personalized videos on YouTube?
You might turn to a fun and fast campaign on Twitter, a virtual Facebook event, or even a fresh TikTok clip.
If you want to be informative and innovative, why not try a Podcast collaboration?
These days, more brands are using Podcasts to share their expertise. Podcasts are big business. Spread your podcast notes and clips to increase your brand awareness!
The option you choose will depend on your brand, audience, and campaign goals.
Whether it's Facebook, Twitter, TikTok, Instagram, YouTube, or your favorite podcast, you should always choose your media wisely.
2. Know Your Audience
All brands should know their target audience. Anyone who says their target audience is "everyone" could be missing out on the benefits of highly targeted campaigns.
Let's take a look at an example of a brand with a clearly defined audience.
Track-POD is a company that designs route optimization software for delivery drivers.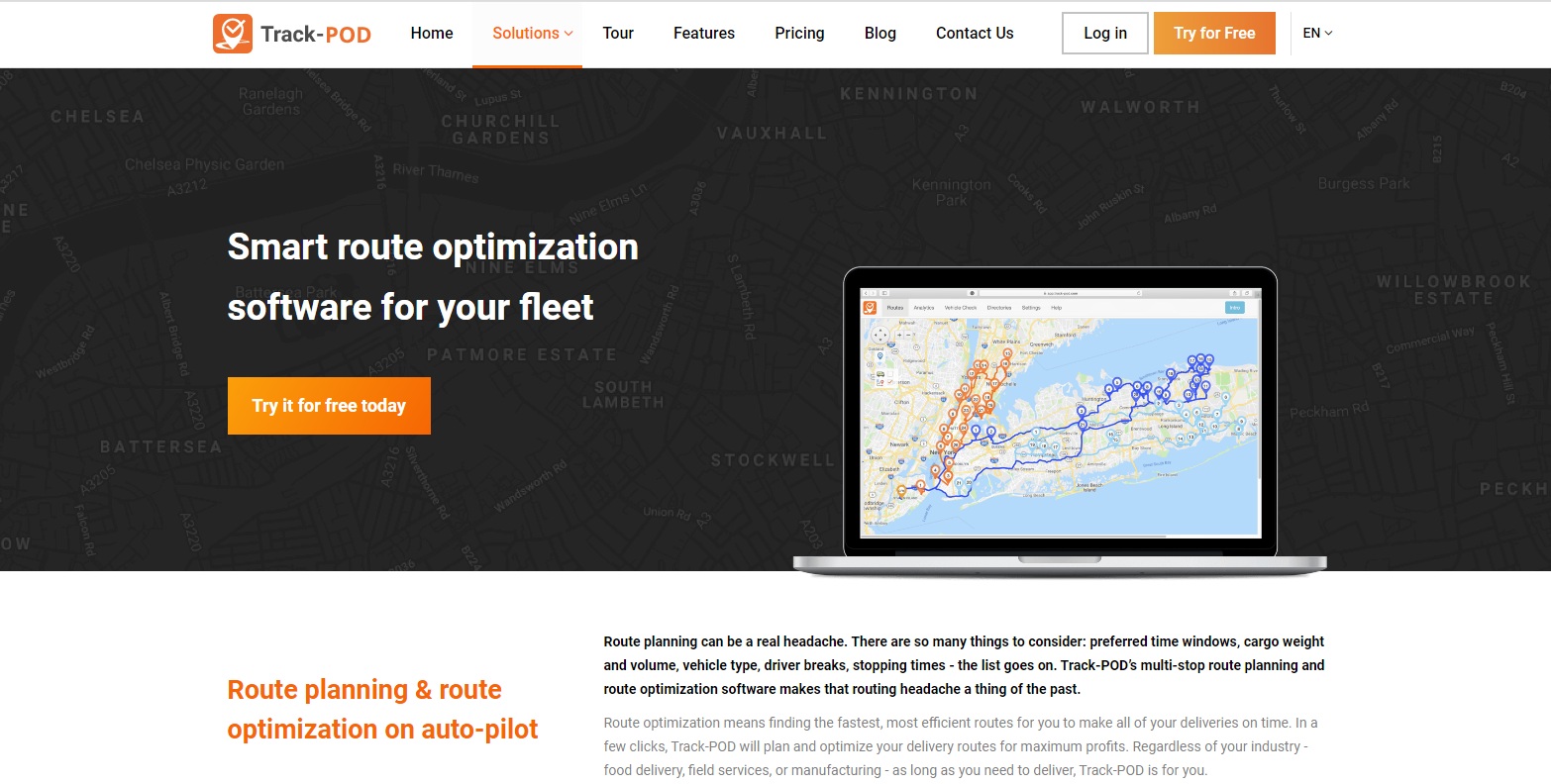 Its target audience is logistics companies. This is a company that shouldn't waste time marketing its software to the general public. It also wouldn't choose a beauty influencer on Instagram as an ambassador.

But it may reach out to some of the top truck Instagram influencers, such as @heavydsparks or @nastytrucksnation, for a long-term partnership. These truck-stagrammers have millions of followers in a related industry.

How do you know who your target audience is?

For some businesses, like Track-POD, the answer is obvious. For others, creating a clearly defined audience can be a bit trickier.

If you've been in business for a while, you can look at your current customer base. Additionally, if you have a website, you can use intelligent software like Google Analytics to give you insight into who they are and where they come from.

For those with a new brand, writing a business plan can be beneficial. You should also think about who your audience isn't. This will help you narrow your focus down to a specific group.

For example, you may know that your audience isn't male, they aren't children, they aren't over 40, and they aren't in the highest-income bracket.

Suddenly, you've narrowed your audience down to females between 18 and 40 who like a bargain.

Knowing your target audience is important not only for your ambassador collaborations, but also for your marketing efforts.

3. Set Goals
Every campaign should have a clear goal. Do you want more followers, more sales, more visitors, or more newsletter subscribers? Or do you simply want better brand recognition?
Your brand ambassador program should be a long-term collaboration. It could last for weeks, months, or even longer.
When you work with brand ambassadors, your goal may be to get fresh content. If this is the case, you should choose people who are interested in reviewing your products on YouTube.
You can then use these videos on your social media profiles and website.
If your goal is to get more sales, offer your ambassadors a special offer to present to their followers.
You don't have to stick to just one goal. You can choose multiple goals that fit together. Think about the outcomes you want and the actions you need to take to make them happen.
During the goal-setting phase, write down a few guidelines that will help you choose potential ambassadors. These guidelines should reflect your goals.
Here are a few examples:
Ambassadors need to have over 50,000 Instagram followers
Ambassadors need to be active on Pinterest and Facebook
Ambassadors need to work in logistics
Ambassadors need to live in the U.S.
Ambassadors need to be passionate about personal fitness
4. Decide What to Offer
If you want to work with ambassadors, you're going to have to offer them an incentive. Social influencers, celebrities, and other popular public faces are bombarded with brands wanting to collaborate.
Think about whether you want one or two key ambassadors or a large pool of micro-influencers and previous customers.
If you decide to use only a few ambassadors, consider offering them free products in return for a review. Of course, you could also pay them for the collaboration.
Remember, if they are posting sponsored content or receive a reward in exchange for their services, they'll need to declare it. For example, on Instagram, they can include hashtags such as #advertisement or #sponsored.
On a blog post, they should include a disclosure tagline such as:
"This is a sponsored post, but my opinions are my own," or, "I received a product in return for an honest review."
Rewards can be smaller for a large group of ambassadors or those with smaller followings. For example, if you have something to sell, you could offer them a discount coupon for the duration of your partnership.
Or, you could send them a voucher to your favorite store or a small gift pack. Always be clear about your expectations before you start the arrangement.
5. Pick the Right Ambassador
Now you know your goals and what you're prepared to offer your ambassadors. But who should represent your brand?
The right ambassador will help you meet your desired outcomes and be genuinely passionate about your brand. You want your ambassador to share your news, services, or products with their followers in an informal way. They should be able to do this without sounding like a paid advertisement.
Types of Ambassadors
When it comes to ambassadors, you have a few choices.
One option is to invite customers from your existing database to join your program. Your customers already love what you do, and they'll be happy to receive a few perks in exchange for sharing their experiences.
Or, you could take advantage of those in your social media networks who align closely with your brand. For example, you may work for a cheap flight finder, such as Scott's Cheap Flights.
SCF may consider working with travel influencers. They could work together on collaborative videos, sharing their industry knowledge. Scott's Cheap Flights could share tips on how to find cheap flights, and advice on how to travel and enjoy holidays on a low budget.
Travel influencers could share videos sponsored by the company, with simple ways of checking flights and finding the best deals.
Many "professional travelers" are active on Instagram, and you can start with a quick search to find the perfect match for your brand.
You'll then have the option to choose either a large group of micro-influencers or a couple of key names with a higher profile. Remember, ambassador programs are a long-term commitment, so think about the pros and cons of each option.
Micro-influencers may be satisfied with a discount or product for review. Celebrities and those with millions of followers will likely expect cash. But you'll need more micro-influencers to get the same reach as one big name. Celeb posts are more likely to go viral.
Your ambassadors will depend on your brand and target audience. You may choose to stay away from traditional influencers and focus on parents, students, or seniors. Using "real" people in your program can still get great results.
When you approach potential ambassadors, personalize the message. Learn about what they do, and show them that the collaboration is legitimate. Be professional and friendly, and keep your message short and sweet.
Bigger names may have a publicist that you need to contact for potential collaborations.
6. Be Transparent and Give Them Extra Tools
When you work with an ambassador, it's a partnership. You want them to be successful because this will have an impact on your brand.
You should go into the collaboration with a plan and clear terms and conditions. How will it work? What do you expect? And how long will the campaign run?
You can ask the ambassadors to agree to your terms. For example, if they're making videos while representing your brand, you can ask that they don't use coarse language. You can also ask that they don't feature competitors and that they include a link to your website.
There may be times when an ambassador cannot be positive about your brand. Are you prepared for an honest review? Or would you prefer the post to stay unpublished? This is something you should include in your ambassador guidelines.
The conditions for the ambassador program will depend on your business and those goals we discussed earlier.
Let's say you run an online clothing store. Each month, your ambassadors can choose an outfit from your store. In return, you could expect a review, a video, or a photo.
One of the terms of participation is that they're expected to publish the content before the middle of the month. If they haven't, they won't receive new clothing the following month. Having clear guidelines will help you have a successful working relationship because they'll always know what's expected.
If you're using micro-influencers or previous customers, they may not be confident in creating brand videos, recording podcasts, or writing blog posts. English might be their second language, or they may be new to the industry and need a confidence boost.
You can support them by offering training and tips. For example, you may have found someone who is the perfect fit for your collaboration, but they need help improving their English speaking skills. You could give them access to a language program.
With the right program, they'll feel more comfortable speaking, and the audience will be able to understand them better. When you give your ambassadors unique benefits, you'll attract more influencers to the program.
You might also consider creating a dedicated guide for ambassadors who are looking to grow their followers as they promote your brand. You can have virtual events and meetings with expert advice and guest speakers.
7. Track and Measure the Program
Once your ambassador program has kicked off, you'll want to track and measure the results. The way you do this will depend on the type of campaign you're running.
For example, your goal may be to get more visitors to your website. One way you can measure success is by seeing an increase in traffic.
You can give your ambassadors a unique referral code, giving you an accurate picture of the true value of each partnership.
Running a Successful Ambassador Program
Ready to run an ambassador program? Make it a success by following our top tips.
In this article, we gave you a list of strategies to use for your ambassador campaigns. We told you how to choose your media, know your audience, and set clear goals.
We gave you tips for choosing ambassadors and knowing what to offer them. And we also suggested you be transparent, give them clear guidelines, and help them succeed with extra resources.
Don't forget to monitor and track your ambassador programs so you can see whether you're meeting your goals.