Having a business in which everything works like clockwork at its maximum efficient capability is among the main goals of many entrepreneurs. Of course, as the company grows, it becomes harder to keep track of things. And since every acquired client, lead, interaction, and minute matter greatly, there's no other way than to have things organized.
On this page, we'll introduce you to how getting a customer relationship management system can help your business. We'll also provide you examples of such CRM software that's worth considering.
CRMs: A Quick Introduction
A customer relationship management system is software that's designed for helping businesses to manage and organize their processes. It is used for automating everyday work, efficiently handling customer information and client support, crafting reports, tracking employee and team progress, compartmentalizing data, among other things.
CRMs differ in terms of their complexity and functionality, catering to the necessities of the business based on its size and individual specifics. In essence, you can craft the system to be anything you'd like it to be.
Without a doubt, any CRM system needs to be set up to suit the requirements of the company, but this time will surely pay off. In any case, the main aim of a customer relationship management system is to provide orderly, systematic, and helping back-up for company growth.
How Can Your Business Benefit from Having a CRM?
For starters, you have to understand that getting a CRM is like getting a work environment. Similar to an actual physical office, it can be the very place where teammates collaborate and where the work "life" exists. All the docs, all the calendars, all the logs, everything will be there. So what are you in for specifically?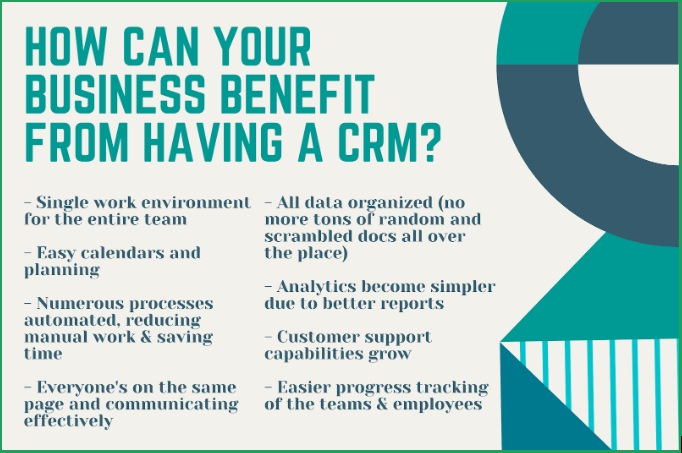 1. Automating what can be automated
Automation in eCommerce and in other business spheres is a huge step forward. If something can be handled systematically, why continue to waste time on manual labor?

With a CRM, you can put numerous processes on track, as with proper setups, you may remove loads of unnecessary manual work altogether. For instance, this regards auto send-outs of mailers, templated messages for speeding up communication, as well as dozens of various notifications that can greatly enhance the effectiveness of your employees, to name a few things.

2. Organized and unscrambled data
It's quite intimidating when you imagine how much time employees waste on looking for information as they browse through hundreds of docs, spreadsheets, files, and etc. CRMs are perfect at organizing data, and the best part about it is that all teammates can have access to it, so there's no need to store information locally on their computers.

3. Coherent & clear communication
When all the action takes place in just one environment, everyone's updated and on the same page. Communication obviously becomes many times easier. To say the least, dozens of unneeded movements that deal with finding the right man for the job, contacting them, asking something, is a piece of cake.

The CRM logs the changes and updates, allows making notes and reminders, having dialogues, tagging other workers, it can even help in task assignment and progress management!

4. Effective lead management
Without any doubt whatsoever, handling the company's leads with a CRM can bring lots of organization to the process. No more fighting over potential clients or losing a lead somewhere in the piles of incoming or stored data.

Apart from having everything compartmentalized, with some setups you can even line out how leads will be graded automatically based on where they came from and how they'll be distributed. This way, for instance, you can pass on the best-rated leads that can become big clients to the more experienced employees.

5. Growing a knowledge base
Managing a knowledge base effectively is one more undeniable strength of CRMs. Again, when you have every work process "living and breathing" in one single place, it becomes easier to "file" the knowledge that was obtained over the years. It's simple to jot down various occurring cases and their solutions for others to turn to when needed. For example, many of such can be put down in searchable Q&A or video tutorial format for convenience.

Clearly, this approach reduces time wasted on "bugging" colleagues when asking for some help, advice, guidance, etc. All the data is readily available round-the-clock and therefore picks up the efficiency of employees.

6. Data access management
The question of who can have access to what is also solved rather simply using CRMs since data access "rights" can be set up.

To give an example, let's assume that there are four sales teams in a single company broken down by the regions that they serve. It is more than possible to set up the system in such a way that only the four of the team leads and their manager will have access to specific reports, progress management bars, files, calendars, or even leads, while the rest of the sales reps will see only that data that you'd like them to. A handy feature indeed.

7. Calendars & planning
Speaking of calendars and planning, with everything's there "on a silver platter" in a single CRM, you emit the need to use third-party tools for time management and planning. Most CRMs offer great calendars in which you can schedule meetings and other activities in a similar and convenient format that we're all accustomed to.

8. Reporting & analytics
Finally, the last advantage of CRM use in a business that's worth bringing up regards analytics and building reports. Thanks to having all the data in the system, you can craft any reports you'd like or even have them auto-sent to you on a regular basis. CRMs can crack up numbers and files easily, providing you with any lists, charts, percentages, or graphs that you need.

Be it the performance of an individual employee (eg. how many successfully solved cases a specific customer support specialist handled or who's the best one on the team), or how many lost leads you had during the month and why, the opportunities here are endless.

CRMs to Consider Getting
Now that it's clear why not having a CRM is a big miss-out and overlook, let's go over some of the successful CRM software that's convenient, secure, and worthwhile.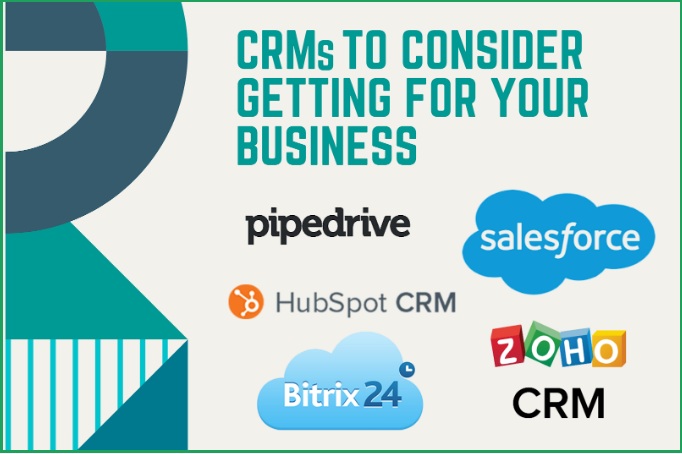 Below is a list of the top CRM software that's used by thousands of various-sized companies around the globe:

To Conclude
Summing up everything we've covered in the article, undoubtedly, there are numerous benefits that CRM use can bring to a business. Staying organized in one environment, communicating effectively, having all the leads distributed in a practical way, making use of the ability to create various reports, as well as dozens of other perks are what you can gain when opting for a customer relationship management system for running your company.