Artificial intelligence (AI) has emerged as a transformative technology, driving innovation across industries. The role of artificial intelligence (AI) is becoming increasingly significant as individuals and businesses strive for greater agility and efficiency. Advances in machine learning, deep learning, and natural language processing have made AI tools essential for businesses, researchers, and developers In this article, we will explore the top 10 leading AI tools the face of the charge to change the future.
10 Best AI Tools for Productive Tasks
We have covered the best 10 AI tools which can help you with your productivity. The ranking of each tool is totally based on my personal opinion and experience which might differ from person to person. If a tool is on this list, it means that it can help you streamline your processes and increase overall productivity. Let's look at these high-quality AI solutions to determine which one meets your requirements best.
1. ChatGPT
Many of the other tools on this list are powered by the revolutionary AI chat assistant known as ChatGPT. It is intended to assist users with text-based tasks in a chat dialogue application that is simple to use. If you ask it to perform a text-based task, it will use its highly trained LLM. It even edits blogs and writes code.
Key Features:
Conversational AI that can talk about any subject and perform complicated tasks Choose from a variety of models depending on your requirements (multiple GPT 3.5 versions and GPT 4) GPT 4 API that connects to thousands of services to bring the Large Language Model's power into your workflows and tasks.
ChatGPT is suitable for both individuals and businesses because it excels at increasing productivity, streamlining communication, and providing instant support for a variety of tasks. For more options, look into alternatives to ChatGPT.
Pricing
With Plus it cost $20, but you can also use the free version.
2. WriteSonic
WriteSonic is an all-purpose AI content creation tool that also offers AI writing assistance, AI-generated art, and a chat assistant modeled after ChatGPT. On this list, it is most similar to Jasper and has distinguishing characteristics. For content creators who want to use AI in multiple ways, WriteSonic is the tool of choice.
Key Features:
One of the best AI writing tools for creating AI-generated art with Photosonic ChatSonic is a GPT-4-powered AI chatbot with access to live internet data and an easy-to-use UI for content creation. WriteSonic is the go-to tool for AI enthusiasts looking for a flexible solution that can produce a wide range of AI outputs and open up a world of creative possibilities.
Pricing:
Monthly payments for paid plans start at $19 and also have a free option.
3. Midjourney
Midjourney is an AI text-to-image generator that lets users create one-of-a-kind, eye-catching images for social media, websites, and marketing materials. By creating an account on their discord server, users can begin using Midjourney.
Key Features:
Generation of AI images from text prompts Endless potential with four images per prompt and high-resolution output. Midjourney is the best option for people who want to create stunning AI-generated images that people will remember for a long time.
Pricing:
Plans cost $10 per month.
4. Surfer SEO
An AI-driven search engine optimization tool called Surfer SEO aids users in analyzing and optimizing their content for higher search rankings and more organic traffic. Utilize it to begin researching search engine results pages (SERPs) and creating content briefs with comprehensive outlines. Surfer uses natural language processing (NPL) to compare your content to the top articles in the SERPs and offers advice on how to outperform them. Key
Features:
In the Surfer editor, enhance blog posts through real-time content optimization and analysis.
Grow Flow is a keyword research tool that continuously analyzes your website in search of content decay and quick wins. It is suited for Digital marketers, content creators, and website owners who want to optimize their content, improve search engine rankings, and outperform rivals in search results will benefit greatly from Surfer SEO.
Pricing:
Monthly premium plans start at $59.
5. Grammarly
Grammarly is a writing and grammar assistant powered by AI that identifies and corrects spelling, punctuation, grammar, and style errors to help users improve their writing. Marketing, business communication, and everything in between all rely on content. It is now error-free and ready to be read by your most important audiences thanks to Grammarly.
Key Features:
Style and tone suggestions, real-time grammar and spelling checker, plagiarism detection, and GrammarlyGO's ability to produce content that is in line with your writing style. Students, professionals, and writers who want to improve their writing skills and produce error-free content will benefit from using Grammarly. We recommend trying the free version, all users can benefit from the useful features included in the free version.
Pricing:
Everyone ought to get the free plan, and paid plans start at $12 per month.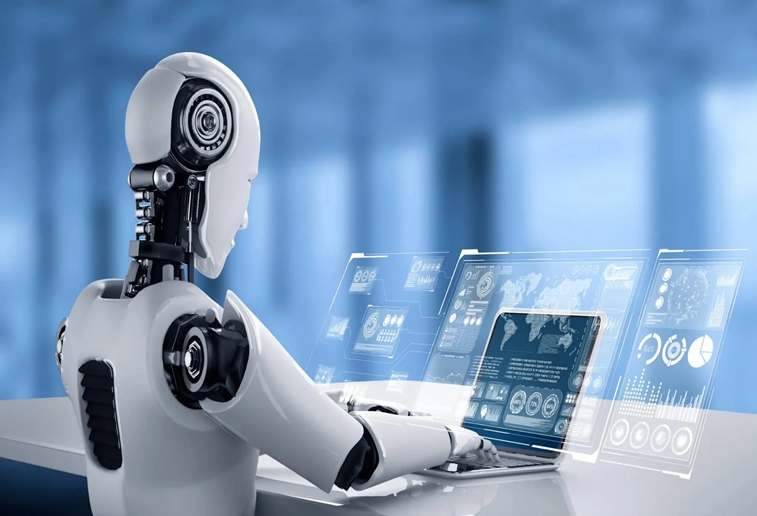 6. Quillbot
Quillbot is a paraphrasing and rewriting tool powered by AI that enables users to rephrase and restructure their text while maintaining its original meaning. As a result, it is ideal for producing original content that is free of plagiarism. If used ethically, it is an excellent tool for rewriting.
Key Features:
Multiple rewriting modes for a refined output Multiple settings to preserve original meaning and context Advanced paraphrasing Add-on plagiarism detection tool. Quillbot is ideal for content creators who need to rephrase text, produce original content, and avoid issues with plagiarism to guarantee the quality and originality of their work.
Pricing:
Premium plans start at $19.95 per month, with a free plan.
7. Resume.io
Resume.io is a resume builder powered by AI that enables users to create polished and professional resumes that are tailored to specific job openings. It helps you secure the bag by taking care of resume templates and providing professional writing assistance.
Key Features:
Reliable resume templates that can be exported as Word or PDF AI summary and cover letter generator Simple job tracking to keep track of applications that have been submitted. Resume.io is made for people who want to make their resumes stand out for job applications and has an easy-to-use interface that helps them shine.
Pricing:
The free plan is limited, and paid plans start at $24.95 per month.
8. Pictory AI


Pictory AI is a video generator powered by artificial intelligence that uses long captions to create stunning brand videos. It can incorporate your published content into its AI model by providing a URL for it. The best content can then be chosen, a soundtrack made, and rich media hired to make a video that can be shared.
Features:
Create short videos for longer videos He uses stock footage, AI-generated soundtracks, and background music to create his videos. A fantastic blog-to-video project editor Automatic caption generator Artists, product developers, and business owners looking for automated ways to turn long-form text and video into engaging video content will appreciate Pictory AI's improved visual storytelling capabilities.
Price:
Plans with a monthly fee start at $23.
9. Lovo AI
Lovo AI is an AI-powered text-to-speech generator that allows users to convert text to natural sound audio in voice languages Simply load written content, and Lovo converts it into AI-generated audio using TTS technology.
Special Features:
400+ natural sound tones in a variety of price ranges 100+ languages are supported Customizable voice settings and granular voice control. Lovo AI is ideal for content producers, educators, and businesses that require high-quality audio content for applications such as audiobooks, podcasts, and e-learning materials, and simplifies audio creation.
Price:
Free plans are available with paid plans starting at $25/month
10. Looka
Looka is a brand guide and logo maker powered by AI. Using the power and efficiency of AI, it can assist in the creation of brand colors, logos, and other marketing collateral. Give Looka a shot if the idea of creating an entire brand seems daunting.
Key Features:
Choose from dozens of AI logo designs and download your favorite (in SVG, PNG, and EPS). Match your logo to the colors and font of your brand to create a well-rounded visual brand. Apply your brand to more than 300 templates for easy collateral creation (such as invoices, email signatures, and business cards).
Without advanced design skills, small businesses and entrepreneurs who want to create eye-catching logos and brands can use Looka, which frees them up to concentrate on growing their businesses.
Pricing:
You can get logos for as little as $20 (.png only) or spend $96 a year building ongoing brand assets.
Wrapping Up
These were the top 10 best AI tools by which you can boost your productivity and can directly influence your efficiency. No matter what your profession is all these tools will directly help you to finish your task with ease and the end motive of an AI is to improve human efficiency.