Artificial intelligence is changing the way marketing is done for the good. Marketers are now equipped with better insights to optimize their campaigns to accomplish their goals.
56% of marketers believe AI can help yield better engagement with customers and prospects. Businesses that use AI are projected to potentially double cash flow by 2020, with implied net cash-flow growth of roughly 6% till 2030.
Don't know how to use AI in marketing? Here are the six excellent AI marketing tools for enterprises that can help you take your business to the next level.
1- Google Analytics
Analytics Intelligence in Google Analytics uses machine learning to help you better understand your data.
To open Analytics Intelligence, sign in to Google Analytics. Click on the Insights button in the top right.
You can see insights generated by Analytics Intelligence. You can also ask about your data in plain English, and it will provide answers to a wide variety of questions.
Here are some questions you can ask Analytics Intelligence:
Which countries are most new users from?
How many unique visitors did we get yesterday?
Why did my traffic drop?
Why is my bounce rate increasing?
Which channel converted the best for app download (or any other goal that you have set)?
What is the conversion rate for referrals vs. organic search?
Analytics Intelligence uses machine learning to power things like:
Smart Goals: It analyzes dozens of signals about your website sessions to determine which of those are most likely to increase conversions. The signals include session duration, pages per session, location, device, and browser.
Smart Lists: It determines which users are most likely to convert in subsequent sessions. Artificial Intelligence then dynamically manages the remarketing audience to focus on those prospects. Smart List is updated daily to reflect the latest data.
Session Quality: It estimates a user's proximity to conversion using the session quality dimension and the average session quality metric. The session quality is given a score of 1-100 (1 indicates the minimum and 100 means the maximum chances of conversion).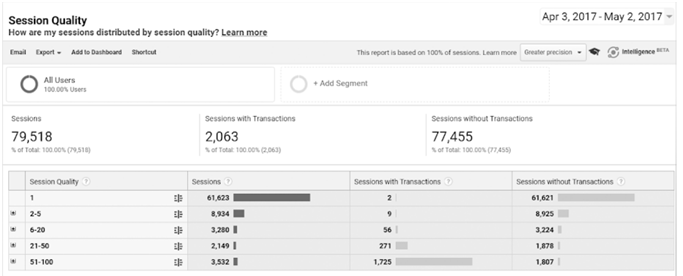 Conversion Probability: It calculates how likely a customer is to convert in the next 30 days. Just like Session Quality, Conversion Probability is expressed as a score of 1-100.
These insights can be used to optimize your marketing campaigns to generate a higher ROI.
2- Finteza
Finteza makes it easier to sift through the wealth of data. Finteza's AI is trained to constantly monitor traffic, identify scammers, spammers, and hackers. This is a significant asset as it can prevent Google penalties if your site gets hacked.

Another advantage of Finteza's Traffic Evaluation feature is that it eliminates 12 types of low-quality traffic, thereby providing accurate readings to gauge the success of your campaigns.
Finteza's Webmaster tools provide you insights about your website visitors that matters the most to you. It includes real-time visitor statistics, geographical location, devices, traffic sources, operating systems, and conversions.
Its report segmentation feature provides you a deeper analysis of your marketing efficiency. For example, you can analyze the number of visitors, page views, and conversion rates from desktop users living in the US who were directed from an ad displayed on Google. Complex reports like this can be created in just a couple of clicks.
You can also identify where and how you lose leads by analyzing the audience reports in Finteza. It helps you visualize the percentage of lost users by pages, sources, first viewed page, and 13 other criteria.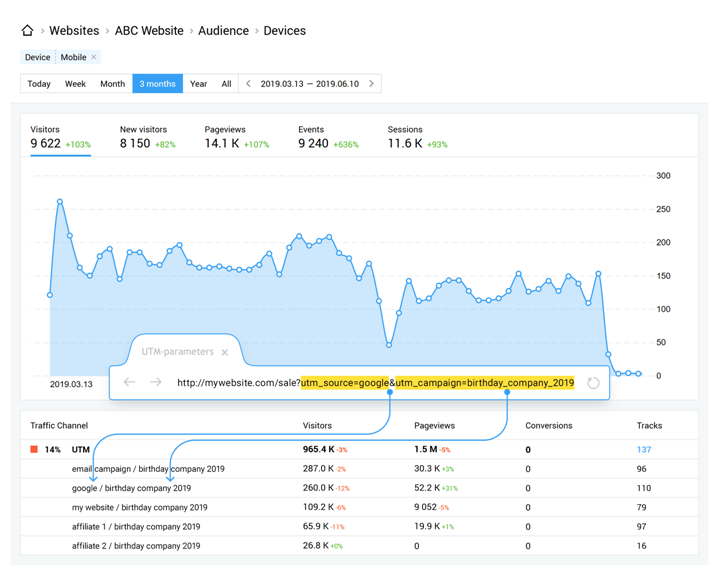 With Finteza, you can even create ads on your website and in third-party resources. Depending on your goals, Finteza's AI platform will help you configure and target marketing campaigns.
For example, if you want to increase downloads of your mobile application. Create the ad copy, set start and end dates, devices, and geography. Finteza's advertising engine will determine the language, show the desired banner, and redirect users to Google Play Store or App Store, depending on their operating system. You will be able to see detailed analytics, including clicks, impressions, and CTR.


3- Adapt
Adapt by Omniconvert is a tool that uses machine learning to help you run experiments on autopilot and increase the conversion rate.
There are four primary types of automation that you can apply in your online store using Adapt:
Choice reduction search: In this, the AI interprets the needs or desires of a customer based on what they are searching on your website. Adapt then displays the products they want to see to increase your conversion rate.
Choice reduction filters: The platform's AI is designed in a way to understand the customer's expectations. It then determines what filter to show, to whom and when from all the available filters in your store. Doing so makes customers unconsciously believe that the displayed products are precisely for them, thereby increasing conversions.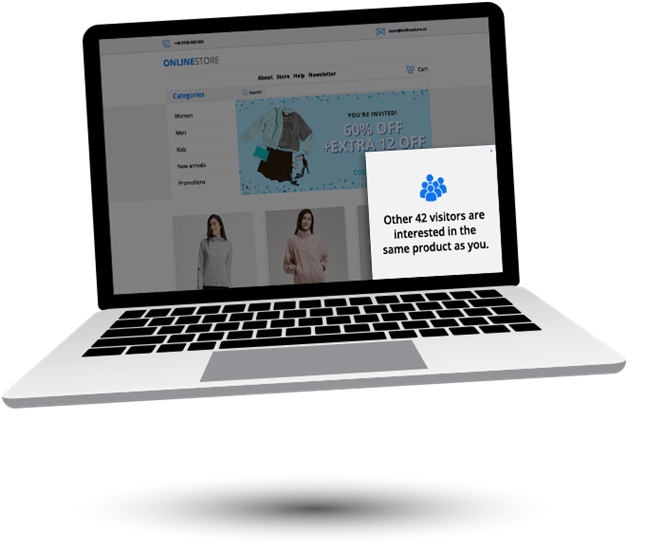 Welcome gateway: Adapt determines who is visiting your website for the first time and offers them a discount (as set by you) to entice them into purchasing.
Social proof: Adapt displays your site visitors how many people are buying your product in real-time. It activates shoppers' FOMO emotions and encourages them to take action quickly.
4- MarketMuse
MarketMuse uses artificial intelligence to help you build and optimize content strategies.
The platform's AI is trained to help you determine the topics for which your site is most likely to succeed. It considers the buyers' needs, search intent, competitive intent, and your own content performance to research topics.
MarketMuse Content Briefs provide in-depth guidance on what's required to create expert-level content that is search engine friendly. The Content Briefs include structure, subheading, topics to cover in the article, audience and intent profiles, the important questions to answer, and the best pages to link (both internally and externally).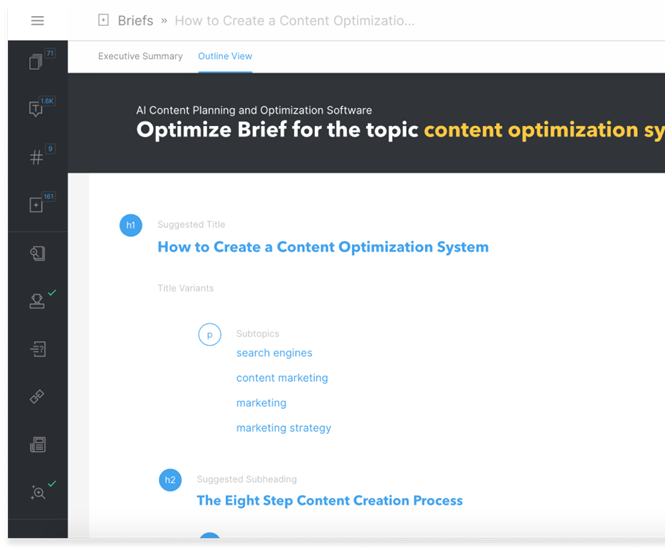 Once you have written the content, MarketMuse assesses how well you have covered the topic, how successful you have been in the past, and how well you are doing with current production efforts.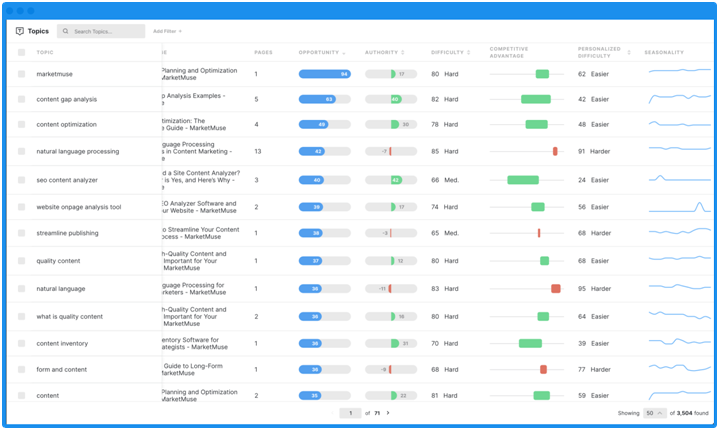 5- Node
Node is an AI platform that leverages people and company data to deliver predictions that enable marketers to make smarter decisions about how to engage customers.
Node's AIR (AI-powered Retention for Customers) identifies customers who are most likely to churn and dissatisfied customers. This enables you to create effective customer retention strategies that drive long-term revenue growth.
Node develops predictive models using data from multiple sources, including your CRM, to provide top prospect recommendations. This enables marketers to target the right people to increase their conversion rates.
Node AI even provides lead conversion and win rate predictions for precision forecasting. This helps gauge the effectiveness of your sales and marketing processes.
6- Relay42
Relay42 is a data management tool that unifies data from all sources to create independent user profiles based on real-time behavior. It lets you track customer behavior from their first touchpoint to the last.
Successful businesses offer their customers a seamless, consistent, personalized experience across channels, from their website and social media to in-store.
Relay42's Intelligent Journey Orchestration mirrors customer behavior across channels, enabling you to deliver true one-to-one personalization in real-time.
The data provided by Intelligent Journey Orchestration allows you to send relevant and timely communication to each customer on their preferred channels, thereby increasing the chances of conversion.
Relay42's industry-specific AI models also help you anticipate customer needs and activate insights even before they show signs of changes.
Final Thoughts
Data-driven marketing is the future. Marketers that use AI see better results, both in terms of leads and revenue. The six tools mentioned in this article are the best AI marketing software for enterprises. Which of them have you used? Which one of them are you going to try? Let us know in the comments!