Today, when search engine rankings have become utmost important for businesses, they also need to have a better clarity about the performance of their websites, satisfaction of their customers, and digital marketing presence of their competitors.


Just floating a website and presuming an overwhelming visits from the audience at large is not enough, businesses have to attract more visitors, retain or attract new customers, and find ways to get ahead of their competitors. All of these required steps come under web analytics, which is the process of analyzing the behavior of visitors to a website. This is where the need for web analytics tools arises because they have to fit into your overall web strategy.


These tools can be critical to your organic search strategy as you will come to know which keywords are bringing more traffic, which of them are profitable or which ones might lose your money. However, selection of most effective tools is the key because there are a large variety of tools available on the market and obviously you cannot use all of these tools all the time. So, you have to pick and choose those tools that give you desired outputs both online and offline.


Here are some important SEO tools that will help you analyze your website traffic:


1. Omniture Web Analytics or Adobe Analytics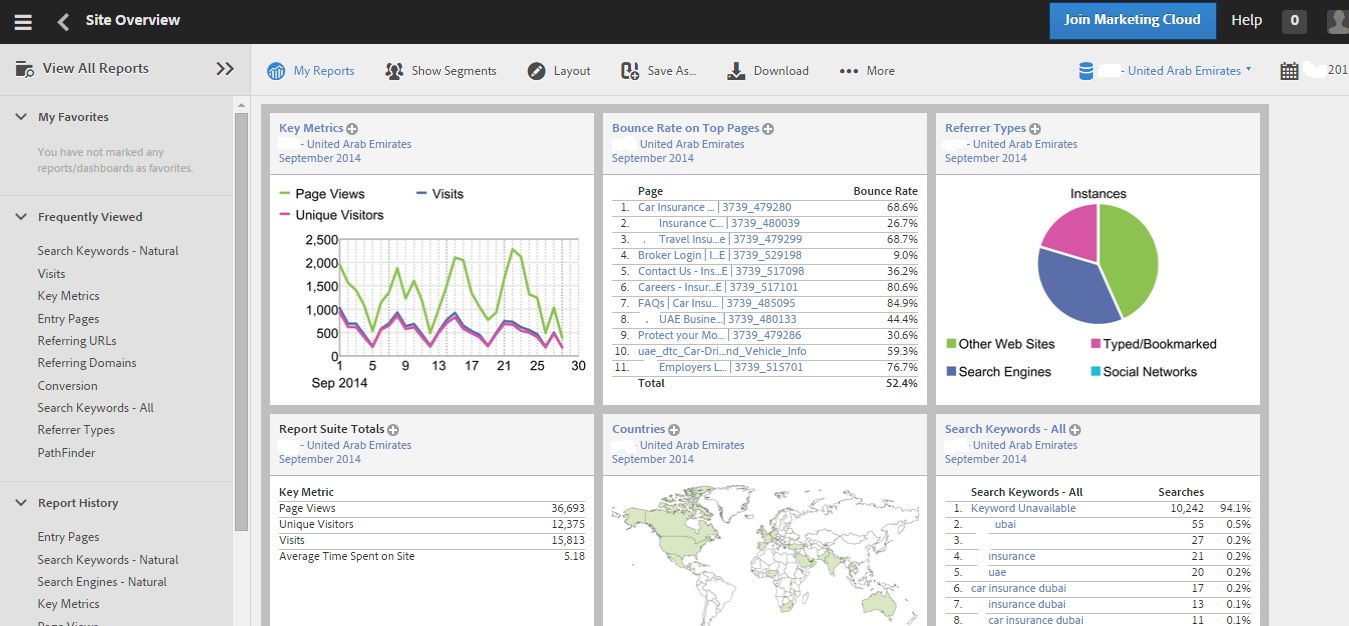 Omniture is a web analytics and online marketing company that was acquired by Adobe Systems in 2009. It continues to be a strong analytical platform along with providing valuable marketing insights, content/website updates and a reliable management tool. Omniture web analytics s a robust tool that tackles a website's complexity by different approaches but unlike Google Analytics it comes at a high price. You can use SearchCenter application to integrate PPC providers including Adwords. Using this tool you can email hourly reports in Excel, PDF, HTML and MS Word. It allows administrators to assign access at different levels and organize people into groups, whereas SiteCatalyst retains their contact info. Another feature of Omniture called ClickMap is installed and run from the users' computer to view content popularity of the site elements within a page. Omniture has a 24/7 application support, which makes it a complete online resource.


2. StatCounter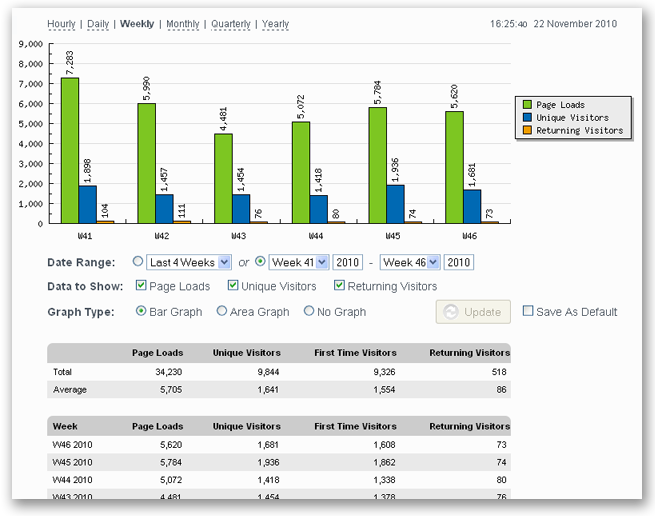 StatCounter is free tool for online visitors. It helps businesses by monitoring the number of hits to their sites, geographical locations of visitors, and by retaining the traffic. Using the detailed metrics with the help of StatCounter's web tracker, you can closely track how users navigate through your site to find areas needing improvement and more. StatCounter allows tracking up to 250,000 visitors per month for free. It utilizes invisible counter, activity of visitors before and after visiting your website, heat maps, and real-time search engine comparison. It allows you to send custom summaries every week through emails in order to have a quick glance at how things are going. It also reports information regarding certain IP addresses.


3. SEMrush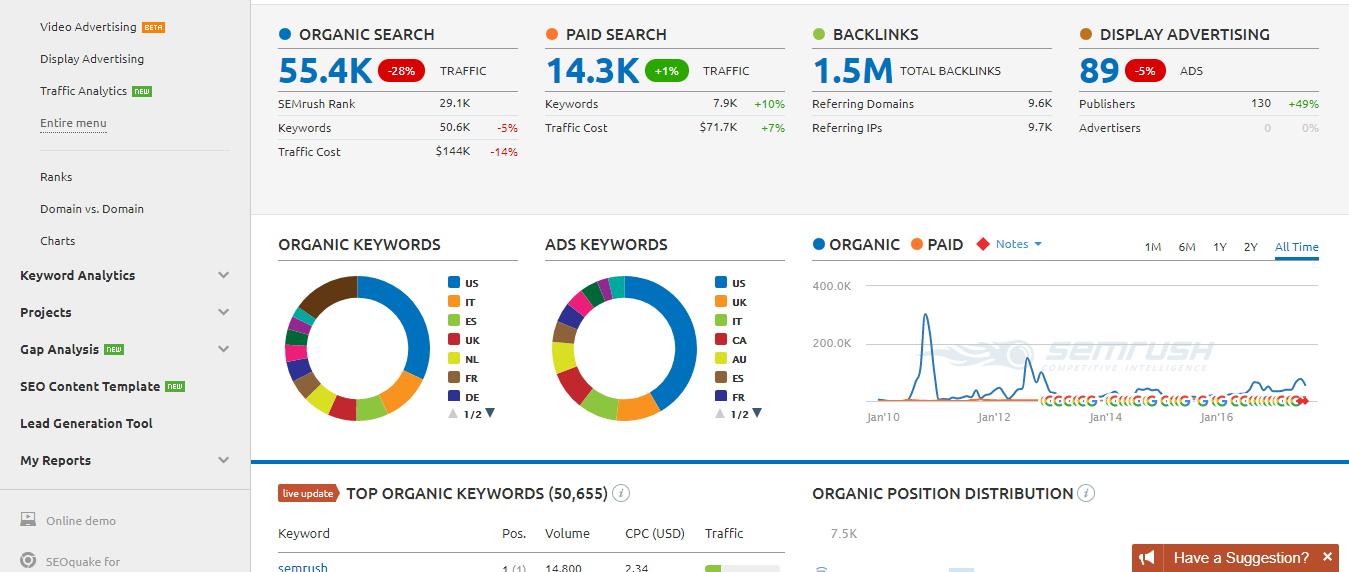 It is generally very important as well as challenging for many businesses to monitor as to how well their websites are performing within their industry. SEMrush Traffic Analytics allows you to do exactly that. It is one of the most popular SEO tools that allow you to monitor a really large amount of search and social analytics coming to your site. You can analyze your competitors by looking inside their traffic statistics and can easily figure out how much they are getting from paid traffic, direct traffic or social media traffic. SEMrush is great in terms of competitors' backlinks analysis tool. It also helps you analyze the overall picture of any domain's traffic.



4. GoingUp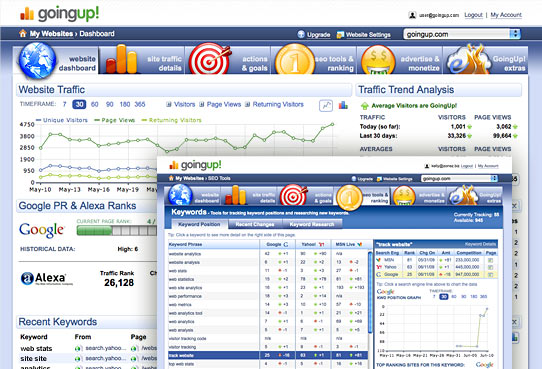 GoingUp is an amazing web analytics tool that helps you easily tracking visitors, monitor sales, view conversion rates along with improving your search strategies. It offers free web tracker, live chat, heat maps, visitor tracking and a lot more. In other words, it offers a complete website analytics. By using GoingUp tool, you will be able to gauge traffic behavior on individual pages and dissect problems by comparing the performance of each page. It creates custom profiles for visitors, carries research for keywords that are bringing traffic, and track Google page rank for individual pages.


5. Piwik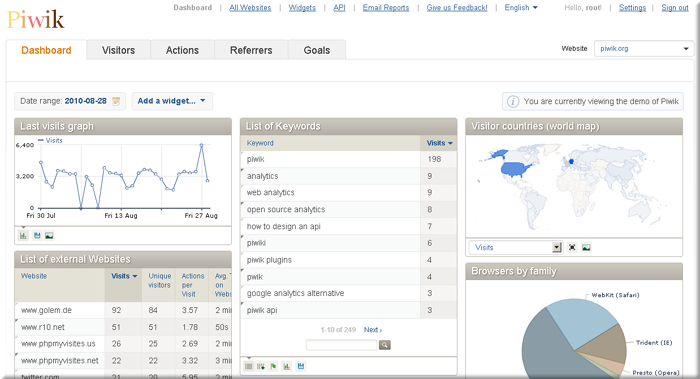 Many experts believe that Piwik can be a serious contender of Google Analytics. If your website gets huge amount of traffic and you can't afford an enterprise level tool, then Piwik will be the best choice. Piwik has many features that make it an outstanding tool, such as: it provides you real-time data updates, customizable dashboard with widget configuration, analytics for e-commerce, goal conversion tracking, event tracking, content tracking, site search analytics, analytics campaign tracking, and so on. Apart from these features, it can track file downloads, outbound links, cart abandonment and it has officially supported mobile app.



Author Bio:
Birbahadur Singh Kathayat is an entrepreneur and online marketing consultant. He is a director of the online marketing company Semarkmedia.com. He has 10 years of work experience in digital marketing and helping small business. He advises several startups and established companies in India and other countries.